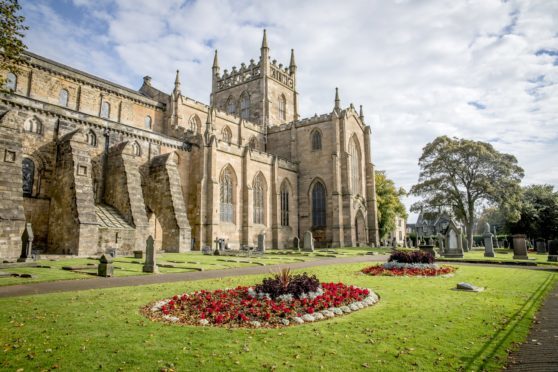 A police probe has been launched after thieves stole Poppyscotland collection tins from the iconic Dunfermline Abbey.
The culprits entered the property between 2 and 4pm on Monday and made off with three weeks worth of donations.
The total amount stolen is unknown however a fundraising campaign has been launched to try replace the missing funds. More than £200 has already been raised.
A post on the Abbey's Facebook page said: "It is with a little sadness that we have to report that the PoppyScotland tins that were taking collections in the Abbey Church were stolen from the table yesterday when the church was open for two hours.
"The tins had three weeks worth of collection in them. Our hope is that those who took them were in real need of the money at this time.
"We would however not want that happening to detract from what has been a poignant and memorable marking of the Centenary of the Armistice in the Abbey Church this past week.
"It has been good to see so many people take the time to come and find a place within the building as they brought their own memories of loved ones lost to war, or who came home scarred by war."
Reverend MaryAnn Rennie added: "We just felt it was important that people knew the money they put in had gone.
"There is a sadness that the money has been taken but at the same time, I think our genuine hope is that if somebody has picked it up, they actually desperately needed the money."
She also issued her heartfelt thanks to a variety of organisations who contributed to the commemoration events.
A spokesman for Poppyscotland said: "We are appalled to hear that collecting tins have been stolen, especially from a church.
"Members of the Armed Forces community depend on Poppyscotland's vital and life-changing support, but we can only continue to provide this as a result of generous donations from the public.
"Thankfully, this is an extremely rare occurrence and we would urge anyone with information to contact Police Scotland immediately."
A Police Scotland spokeswoman added: "Police in Fife are investigating the theft of poppy tins from Dunfermline Abbey.
"The incident happened between 2pm and 4pm on Monday 12 November in St Catherine's Wynd. Inquiries are ongoing."