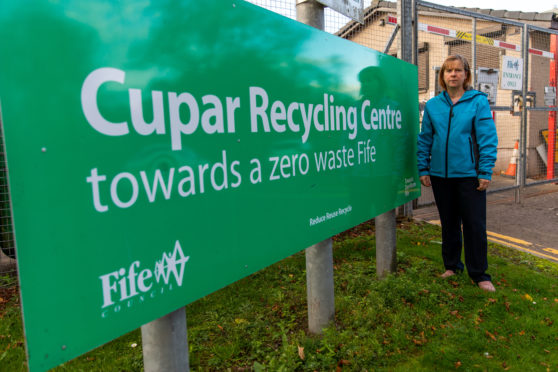 Access improvement ideas have been welcomed by Fife Council's environment spokesman as anger over recent changes to recycling centres continues.
Councillor Ross Vettraino, who chairs the local authority's environment committee, was responding to criticism from Cupar Liberal Democrat councillor Margaret Kennedy, who has expressed her frustration about the situation at the Cupar centre.
Controversial changes came into force at the start of January which prohibited people from walking into the region's 11 household recycling centres, although a trial is under way in Cupar to allow 'walk-ons' for a period.
Ms Kennedy has been dismayed by recent confusion over the use of trailers at the Cupar site and insists there have been too many changes put in place with "no bedding-in period".
Staff have since performed a u-turn on the trailer issue, accepting a recent prohibition of small single axle trailers was not appropriate and these will now be allowed on site.
That move has been described as a "positive reaction" by Ms Kennedy, but her concerns remain.
"All the sites are being lumped together both from a working perspective and from a risk management point," she said.
"In my view it is not appropriate and prevents local arrangements which can ensure that we retain a positive relationship with the public which we are after all requiring to recycle.
"The public should have been allowed to come to terms with the initial changes with regards the hours well before anything else was implemented.
"We now of course have no walk-ons or the bookable service which again is a trial and not fully understood.
"The workings of this site have in my opinion gone beyond the point of working through committee decisions and respecting the democratic process."
Mr Vettraino responded: "Every public service is the better if it has the community's active support.
"I welcome any suggestions from my colleague councillors or from the community at large about how the services, for which I am responsible, can be improved and, to that end, I would be pleased to meet with Councillor Kennedy or anyone else, who has a contribution to make."
Mr Vettraino added that each civic amenity site presents its own challenges, noting the site at Cupar was commissioned some 35 years ago when there were far fewer vehicles and not as much of a "throw away" society.
"The council is constantly looking at ways to maintain the service against such a changed background, while respecting all of the essential criteria including, not least of all, the health and safety of the community that the council serves.
"With a view to minimising the potential for accidents and to preserve the council´s statutory duty in relation to waste disposal, pedestrian access is not allowed to any of the 11 sites in Fife, but a trial, which is in operation, is looking at the feasibility of permitting pedestrian access during the 15 minutes prior to the lunch-time closure.
"Because of limited space, the site at Cupar also presents difficulties in relation to trailers, which is also subject to review."