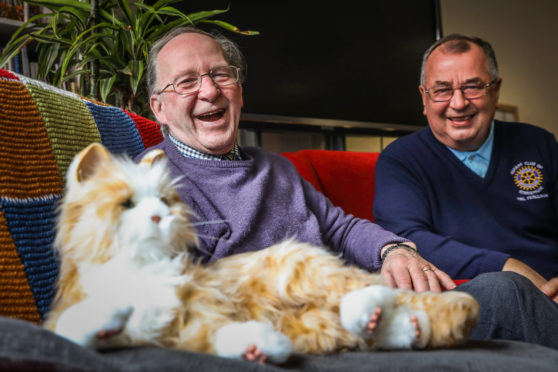 A futuristic feline friend has settled in as the latest companion for people attending Kirriemuir's pioneering dementia hub.
Happy to maiow a welcome or purr contentedly while sitting on someone's lap, the new addition to Kirrie Connections has brought companionship and fun without the responsibility of feeding or emptying the litter tray as the hub's first robotic pet.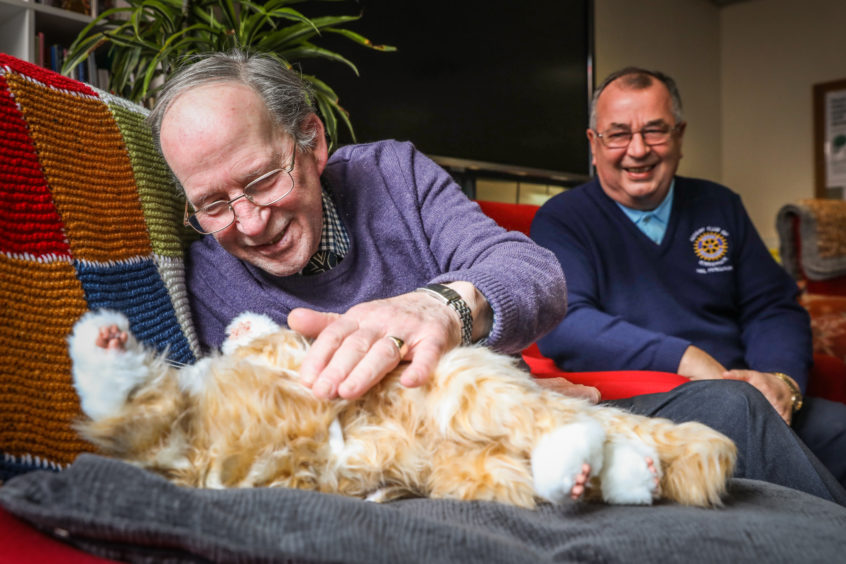 It was provided by Kirrie Rotary Club through a link with counterparts south of the border and the interactive kitty had already proved a hit with all ages at the town centre premises.
Robotic cats look, feel and sound like a real animal and their effectiveness in helping people with dementia is well documented.
The Rotary Club of Wakefield set out to supply other clubs across the country with the robotic pets and Kirrie Connections activities co-ordinator Gail Robertson said the new arrival had settled right in.
"It is motion and touch activated," she said. "The sound and touch of a cat purring on your lap really can be quite calming and therapeutic for people with dementia, particularly those further down the line.
"It gives people the joy of an animal companion without having the responsibility."
The Kirrie kitty has already been named Kowka, on the suggestion of one regular in the hub's weekly singing group.
Gail added: "One of our members, Peter Wilmshurst, was a Russian translator during National Service and when he saw the cat he suggested we should call her by that name,  pronounced Koshka, which is a Russian term of endearment for a cat.
"We are delighted to have been given the cat by the Rotary club and it has already proved a real talking point.
"We had the nursery children in this week and their little faces just lit up when they saw it. We have regular inter-generational activities from the nursery so this is another thing for them to enjoy."
Kirrie Connections, in the heart of Peter Pan author J M Barrie's home town, has pioneered the creation of a dementia hub and ended last year with selection as a role model for how similar projects could operate.
It followed the creation of Scotland's first meeting centre, an inclusive social club based on a successful Dutch initiative, which emerged from a joint project with experts from Worcester University.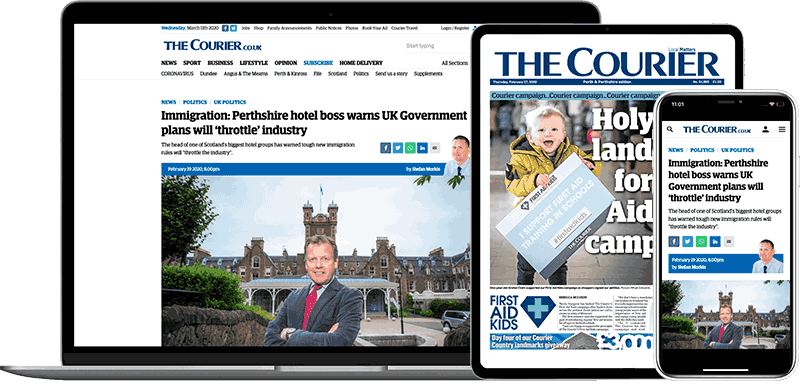 Help support quality local journalism … become a digital subscriber to The Courier
For as little as £5.99 a month you can access all of our content, including Premium articles.
Subscribe