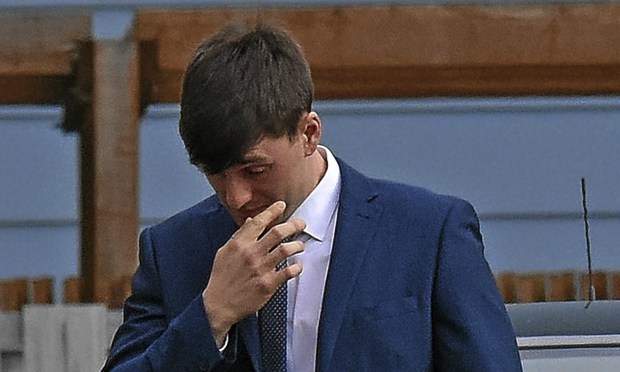 A Royal Marine and an ex-Marine have been convicted of playing a part in an initiation ceremony which saw a new recruit lie in a paddling pool of urine and vomit while eggs were thrown at him.
Carlo Nicholson had told a court martial he was made to take part in a 'joining run' where recruits had to participate in a series of humiliating tasks and drinking games.
Mr Nicholson, who is tee-total, claimed he was waterboarded with cider, forced to fight other marines while naked and covered in cooking oil, and to eat dog food out of a mess tin.
He accused Marine Ian Tennet, 23, and former Marine Ryan Logan, 25, of playing a part in the joining run' into 45 Commando, based at Arbroath, on May 7 2014.
Other tasks included running around camp naked, eating chilli and cinnamon powder, eating lard, and drinking bottles of lemonade taped to his arm.
Mr Nicholson told the court that 'reefing' – being hit across the backside with a belt and then later a rubber tool – was used as a forfeit when he failed or came last in finishing a challenge.
Captain Alison Towler, prosecuting, had told the court: "This case involves an unethical and inappropriate initiation ceremony.
"It was organised and to an extent structured."
Marine Tennet was convicted of one charge of ill treatment of a subordinate.
He told the court the joining run was just a social event with 'drunk lads doing drunk things,' comparing it to Freshers' Week at a university.
He said he was sober and 'there to keep the peace' adding that no-one was forced to do anything they didn't want to.
Former Marine Logan, who now works in the oil and gas industry, was convicted of one charge of battery in regards to hitting Mr Nicholson with a belt, and one charge of disgraceful conduct of a cruel kind relating to the waterboarding.
He was cleared of three counts of battery, relating to 'reefing' with a rubber tool.
Logan admitted striking Mr Nicholson with the belt, saying it was a 'forfeit' because he came last in a drinking game. He denied waterboarding him.
Two other Marines had also previously admitted their involvement in the joining run.
Marine Scott Simm, 26, admitted one count of ill treatment and ex-Marine James Taylor, 26, admitted the same charge.
Board members announced their verdicts today after a six-day trial at Portsmouth Military Court, Hants.
Mr Nicholson, who had discussed leaving the marines before taking part in the joining run, left the service in December 2014 after joining in January 2013.
All four defendants will be sentenced at a later date.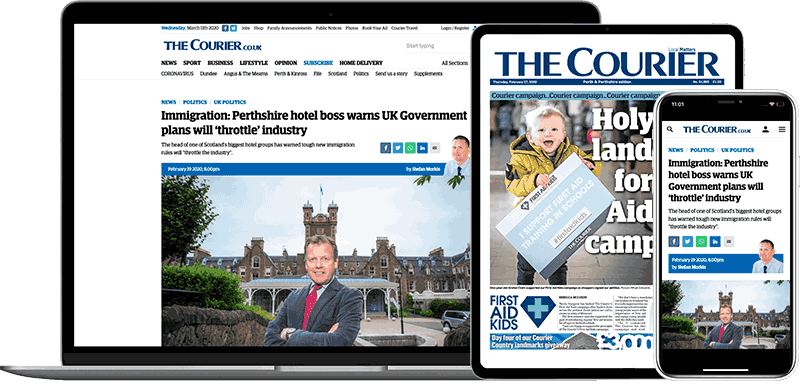 Help support quality local journalism … become a digital subscriber to The Courier
For as little as £5.99 a month you can access all of our content, including Premium articles.
Subscribe