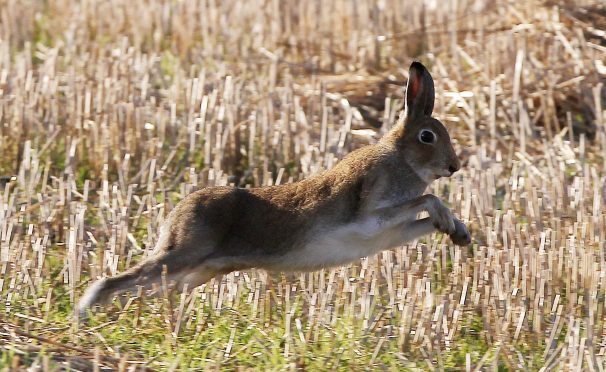 Prosecutors and animal welfare experts say they hope the jailing of an Angus hare courser will send out a strong message to those who get involved in the barbaric pursuit.
Prolific offender James McPhee was sent to prison for 195 days by Sheriff Gregor Murray at Forfar on Thursday after admitting two charges of hunting hares on farmland near Forfar last year — his 11th and 12th convictions for the crime.
The sheriff had warned the 51-year-old car dealer he might lose his dog as well as his liberty, but the court heard the year-old lurcher-type pet, named Gip, had been given to a pal.
McPhee, of Newport on Tay and formerly Arbroath had also sold on a Subaru estate car he used to commit the crimes and which the sheriff had indicated might also be seized.
Laura Buchan, assistant procurator fiscal in specialist casework at the Crown Office and Procurator Fiscal Service said: "This custodial sentence should send a message to anyone involved in hare coursing in Scotland.
"The Crown will continue to work with Police Scotland to ensure that anyone who is involved in the cruel and illegal practice of hunting hares with dogs is brought to justice.
"We would encourage anyone who may have information on hare coursing to contact the police."
McPhee's solicitor said his client was a member of the Travelling fraternity and the hare coursing was done to "fill the pot".
The crime often involves gambling on dogs in pursuit of brown hares and the sentencing sheriff said he was aware that some animals changed hands for significant sums of money.
Lurchers, greyhounds and whippet dogs which hunt by sight and are normally walked across fields on slip leads are released when any hares run off.
The predominantly seasonal crime generally takes place in the spring as crops emerge and then late summer and early autumn once they have been harvested.
McPhee's offences took place in April and May.
An undercover Scottish SPCA inspector said, "We are pleased McPhee has been sentenced following a Police Scotland investigation.
"The Scottish SPCA is committed to protecting the welfare and reducing suffering of all animals including wild animals.
"Hare coursing compromises the welfare of dogs and causes serious suffering to hares.
The officer added: "We work jointly with many agencies and on this occasion our Special Investigations Unit was able to provide expert assistance to Police Scotland.
"We hope this case will disrupt potential offenders in future."
Hare coursers have been targeted through operations such as Operation Lepus, a police-led campaign to combat the activity, which is a crime under the Wildlife and Countryside Act 1981.
Brown Hare (Lepus eurpaeus) numbers dropped rapidly in the 1960's and 1970's before stabilising in the 1980's and good populations are now found on arable farmlands throughout Scotland.
Hare breed between March and August raising their young in a shallow scrape in the ground known as a form.
However, because they have no burrows, they tend to rely on vegetation and their colouration to camouflage them from predators.
As a result they are vulnerable when arable crops have been cut and they are easily seen on stubble fields, and on fields that have been sown.