As Courier Country basks in spring-like warmth, the contrast to exactly a year ago could not be more stark.
A year ago today, the ferocious Beast from the East struck, encasing the region in snow and ice.
By contrast, this month has seen the highest February temperature in recorded UK history, 20.6 degrees, which could be topped in some areas of England before the end of the month.
---
In photos: Then and now
---
In Tayside and Fife, sun-seekers can expect highs of around 15 degrees on Tuesday – a-near 20 degree swing from the end of last February.
The Siberian snowstorm of 2018 has been replaced with Caribbean air coming across the Atlantic.
---
Flashback: How the Best from the East hit home
Thundersnow, blizzards and 8in of white stuff as Beast from the East approaches Tayside and Fife
Police warn of high risk of disruption in Courier Country due to 'beast from the east'
Hundreds of schools closed as Scotland is hit by Beast from the East snow
"It's fantastic" — Burntisland community rallies round to bring homeless man in from the cold
Motorists warned not to drive in Courier Country as weather conditions worsen
Council will "monitor" impact of weather on Dundee schools following angry backlash at decision to keep them open
'Head for home NOW': More than 1,400 Scottish trains cancelled due to Beast from the East
Footage shows snowy Dundee's streets practically deserted during rush hour
---
A Met Office spokesperson explained: "It's just down to the direction of the air.
"Last year, it was high pressure but it was cold coming in from the East. In Siberia, it was -10 or -15 degrees, so that very cold air was coming across to the UK, bringing snow and ice.
"This year, it is high pressure again but situated to the south instead, where there is a warmer climate – hence the warmer temperatures.
"In some places, people might experience temperatures higher than 20 degrees. It's all because of the high pressure which moves air masses across the country.
"The air is moving up from Spain and as far across as the Caribbean, but we'll be seeing that change throughout the week.
"It will be warm today and will then become more changeable on Wednesday before dropping towards more typical temperatures for the end of February at the end of the week.
"We've had a few weather warnings issued in the Tayside and Fife area for fog recently, but we don't have expect anything like The Beast From The East in the immediate future."
The forecasters have stressed the huge swing in temperature is completely natural.
The spokesperson added: "Climate change is a long term issue, and can only be judged over 30-50 years. What we're seeing here is a natural variation, and we will continue to see differences.
"Where we are situated and being an island nation, we don't suffer from many extremes."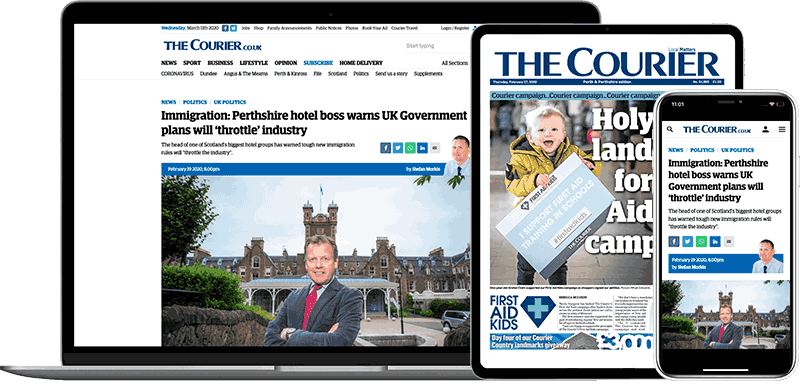 Help support quality local journalism … become a digital subscriber to The Courier
For as little as £5.99 a month you can access all of our content, including Premium articles.
Subscribe