VIDEO: Watch heckler shouting 'will of Scottish people' get thrown out of Jeremy Corbyn rally in Dundee
By
Paul Malik
November 14 2019, 10.50am
Updated: November 14 2019, 5.21pm
A "nationalist" heckler was thrown out of a Jeremy Corbyn campaign rally in Dundee on Thursday morning.
Mr Corbyn was half way through an address at the Labour party tour event of the UK before local members at the Queens Hotel.
Labour leader Jeremy Corbyn is on the campaign trail in Dundee, arriving at the Queens Hotel this morning. #GE2019

Posted by TheCourier.co.uk on Thursday, 14 November 2019
During a segment on the environment, the would-be protestor stood up and started shouting about the "will of the Scottish people".
The man, independence campaigner Bob Costello, was promptly removed from the building and Mr Corbyn was able to continue with his speech.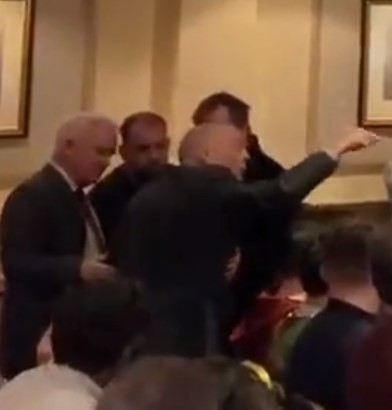 Video of the incident is above this story.
Mr Corbyn was introduced as "the next Prime Minister of the United Kingdom" ahead of the speech.
He was joined by Dundee West Labour candidate Jim Malone and chairwoman of Unite Young Members Scotland Stella Rooney.
Heckler huckled out the back door during Jeremy Corbyn's address in Dundee. The chap was shouting about the "will of the Scottish people" pic.twitter.com/gFGDUklTwb

— Paul Malik (@C_PMalik) November 14, 2019
More to follow.
[[title]]
[[text]]
An error occurred. Please try again.
[[success]]