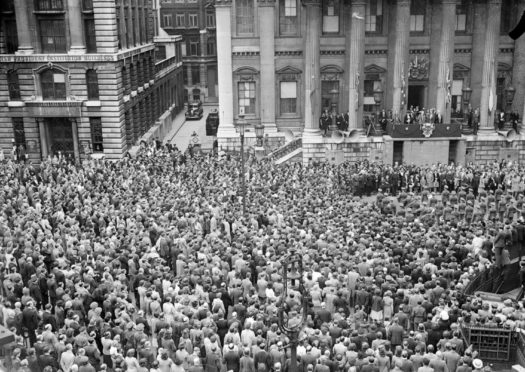 Dundee's Lord Provost Ian Borthwick has led a plea to city residents to take time to remember the ultimate sacrifice as the nation prepares to mark the 75th Anniversary of VE Day.
And the civic figurehead has asked people to also remember those who have succumbed in the peacetime fight against the coronavirus when they commemorate the wartime fallen later this week.
In line with current government guidance, planned VE Day 75th anniversary events in the city and across the country have been altered, with people now being asked to remember the fallen from their own homes.
A two-minute silence will be held on Friday at 11am.
Leading the city's tributes, Mr Borthwick said: "It is deeply saddening that we are unable to physically come together to mark the 75th anniversary of VE Day this year as we would have wanted to.
"In these troubled times, and on this milestone anniversary of war ceasing in Europe, it is important nonetheless that we all take the time to remember those who fell in battle.
"I would encourage you to join me, whether in your homes, your gardens or on your doorstep, in marking this historic occasion.
"The anniversary comes at a time when, here and around the globe, we are facing our biggest challenge since World War Two.
"Then, we were a world divided by conflict. Now we are a world united in the fight against this deadly virus.
"So, just as we remember the fallen in battle, we must also remember the doctors, nurses, carers and other key workers who have made the ultimate sacrifice during this pandemic, and thank those who continue their selfless efforts.
"Now, as then, we must pull together as a community. I would urge you all to stay home, protect the NHS and save lives."