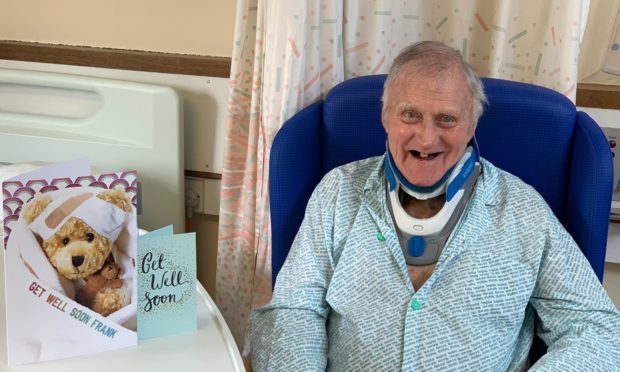 A former swimming teacher, recovering from a bad fall, has been given a huge boost from dozens of well-wishers' cards sent from across Dundee and overseas.
Renowned coach Frank Jordan, 87, was hospitalised last week after suffering a broken neck in his home in Lochee.
After an appeal for support from his daughter Karen Jordan, over 50 cards have been sent, helping to "keep Frank going".
The pensioner, who has received national acclaim for his dedication, taught generations of youngsters to swim in a career that spanned well over half a century.
Karen said the compassion shown by people has been overwhelming.
She said: "The nurses say he was beaming. He was absolutely delighted.
"Some were sent direct to Ninewells Hospital and I delivered some that were sent to me. It's keeping him going. Reading stories is also keeping his brain active as well.
"People have sent in letters reminiscing about holidays and other memories from decades ago. There are plenty of stories from those he taught to swim too. We've had cards from Australia, China, Hong Kong and Ireland."
She added her dad is "hanging in there" and has now been moved from ward 16 at Ninewells to ward 8 of Dundee's Royal Victoria Hospital.
Thankfully, Frank did not suffer permanent damage in the fall on June 24 and is already making small steps in his recovery.
As well as cards, hundreds of people have sent messages through social media and nurses caring for him have spent time reading out every one to the former Menzieshill High PE teacher.
Karen said: "The power of social media is quite incredible.
"He's absolutely loving it so please keep sending cards in if you can. We're hopeful that soon the rules will change and he can have one designated visitor.
"I'm sure he knows half the nurses anyway — he probably taught some to swim."
In 1974, Mr Jordan helped set a world record while at Menzieshill High.
A team of 20 swimmers completed a 100-mile relay in just 24 hours — a feat which remains unbroken to this day.
He received the British Empire Medal for services to water sports two years ago.