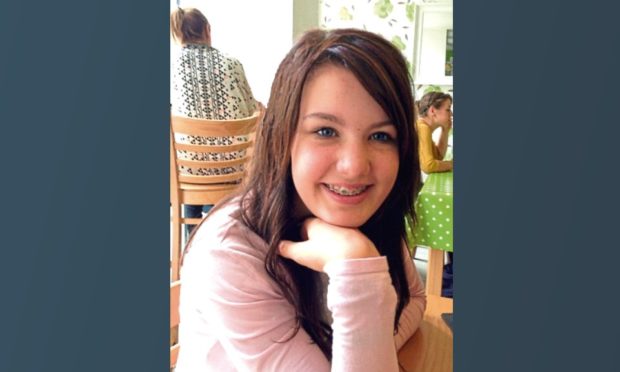 A consultant has said the decision not to admit tragic teen Sophie Parkinson to hospital was the "correct decision", despite her mother's pleas for help.
Giving evidence virtually in the 13-year-old's fatal accident inquiry (FAI), Dr Johnny Graham said in-patient care for those with suicidal thoughts is a "huge risk".
He was speaking in relation to an incident at Dundee High School in November 2013 which caused alarm among teachers and led Sophie's mother Ruth Moss to ask for her daughter to be admitted.
She died months later in March 2014.
Psychiatrist Dr Graham, who said he supervised treatment but was not "directly involved", told Dundee Sheriff Court he understood why people often believed it to be the best course of action during a serious mental health episode.
He said: "We just simply don't do this as often as people think. Parents often think we can admit a patient when they have concerns.
"I can understand they would think 'this is terrifying, surely she needs admitted'.
"But from our point of view, this step is something which carries huge risk.
"It is not usually the best outcome.  The vast majority of the time we would look at different approaches.
"Treatment in the community is very much our preference."
Dr Graham, who was the supervisor for Ms Parkinson's trainee psychiatrist Dr Luke McQuitty, added: "In Sophie's case, she was almost someone we would be particularly concerned about admitting."
He pointed out exposure to others self-harming as one reason it may not have been suitable for Ms Parkinson.
Responding to fiscal depute Steven Quither, Dr Graham also conceded the lack of local beds in mental health services could "raise the threshold" for admittance and revealed under-staffing could be as high as 50%.
He stressed the issues would not prevent the team sending individuals elsewhere in Scotland for treatment, before adding: "One in 22,000 people who self-harm complete suicide.
"We all see suicidal people every week, sometimes every day. We always carry the risk we could see this happen."
The inquiry had earlier heard from Dr McQuitty, who stressed he had treated apparent suicide attempts by the Liff youngster seriously.
Both psychiatrists work at NHS Tayside's Child and Adolescent Mental Health Services (CAMHS), where Ms Parkinson was being treated, alongside input from her GP and a family psychotherapist and supervisor.
Dr McQuitty, said he "absolutely" took the incident at the high school seriously but said circumstances including her "intense but episodic" thoughts of suicide made him consider the incident as less of a risk than others he had seen.
He said: "It led me to wonder if there was perhaps others ways of explaining this rather than an explicit wish to die."
The inquiry also heard Mrs Moss had been confused about her daughter's treatment because no formal diagnosis had been made.
Responding to questions from the family's solicitor David Adams, Dr McQuitty said: "Communication (with Mrs Moss) was not as good as I would have liked.
"Rather than having a label type diagnosis, there would be a formulated diagnosis."
He said he considered Ms Parkinson to be suffering from a depressive episode rather than a longer-term depressive disorder and conceded this could have caused confusion.
The inquiry, before Sheriff Lorna Drummond, continues.