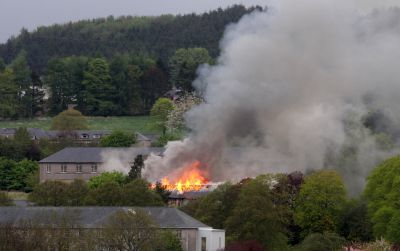 Emergency services have warned that Strathmartine Hospital has become a potential deathtrap following a series of blazes that caused catastrophic damage to the abandoned site.
The comments came following the most recent fire on Tuesday night which ravaged a building, thought to be ward seven, resulting in a collapsed roof.
The flames completely destroyed the first floor and fire crews are now inspecting the building to check whether it remains structurally sound.
It is still unclear how the fire started.
However, the blaze came just weeks after another building at the hospital went up in flames.
Now fire chiefs are urging members of the public to stay away from the derelict hospital which has becoming increasingly dangerous.
Scottish Fire and Rescue Service (SFRS) station manager Fraser Scott said: "I would like to reiterate that members of the public should not enter derelict premises.
"They are not only extremely dangerous for those who enter them, but also for the fire crews who are called to respond to fires within them.
"These buildings may be structurally unsafe, there may be trip and fall hazards and often there is broken glass and other debris lying around."
Fences surrounding the site are topped with barbed wire in an attempt to keep people out, and police tape now blocks the already heavily gated road which leads into the hospital.
Dundee's Macalpine Road fire crew was called to the most recent blaze at around 7:10pm on Tuesday to the already well-developed fire within one of the site's biggest buildings.
Additional crews from Blackness Road and Kingsway fire stations were then called to assist.
Due to the perilous condition of the building, firefighters were forced to extinguish the flames from the exterior using an aerial rescue pump and main jets.
The entire roof space was engulfed in flame causing considerable damage to the derelict building.
The SFRS teams used a thermal imaging camera to confirm there was no hidden fire spread within the building's structure and left the scene around 10:15pm.
Personnel returned on Wednesday to inspect the site and check over the building.