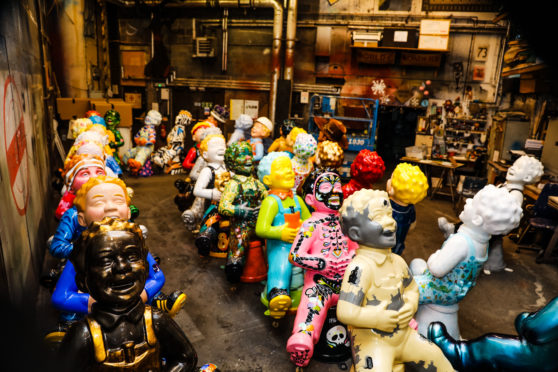 A £2 million fundraising target for a new theatre suite at Tayside Children's Hospital has been smashed.
Tayside communities have been fundraising for more than five years to raise the cash for state of the art new facilities at the children's hospital in Dundee's Ninewells Hospital.
Serving children across the region and in Fife, the ravamp will include a pre-assessment/waiting area, two operating theatres and a 10-bed ward.
Children's hospital charity the ARCHIE Foundation has been campaigning for five and a half years to raise £2 million for the theatre suite, including the flagship Oor Wullie Bucket Trails in 2016 and 2019.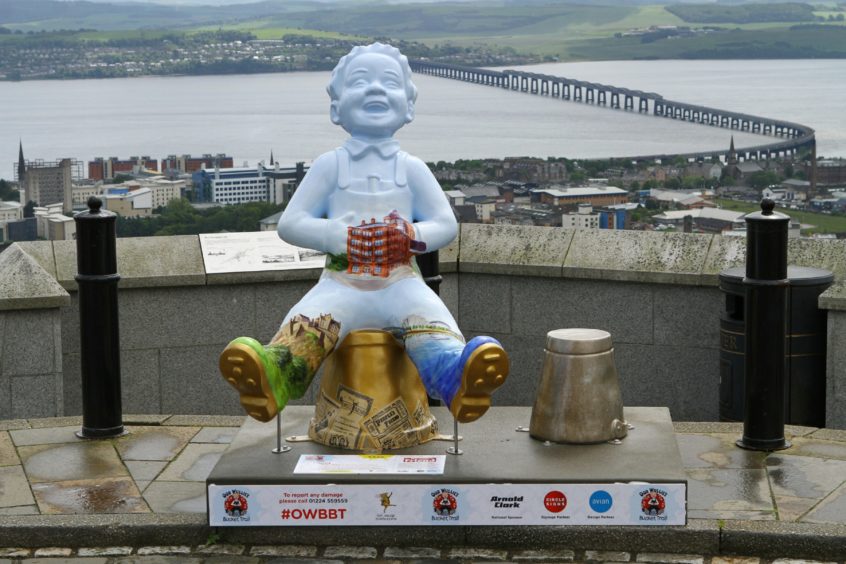 Paula Cormack, director of fundraising for The ARCHIE Foundation, said: "There are so many people who have undertaken so many amazing fundraising adventures that it would be impossible to name them all but we want every single person who has supported this incredibly important appeal to know how truly appreciated they are.
"Thanks to the commitment and sheer hard work from so many individuals, children in the region who require surgery will very soon benefit not only from the expert care and treatment of our wonderful NHS colleagues but they will experience all of this in a child friendly and age appropriate environment."
A fundraising partnership between NHS Tayside and The ARCHIE Foundation was forged in December 2013.
Early the following year it was agreed that the first collaborative project between the two organisations would be the theatre suite at Tayside Children's Hospital.
Communities in Tayside and beyond took the cause close to their hearts, taking part in fundraisers from black tie dinners to abseiling down Dundee University Tower, as well as bikes, hikes, runs and bake sales.
Around 3,000 children have an operation at Ninewells Hospital every year. There is currently just one children's operating theatre and this means that more than 1,000 children receive their treatment in adult environments.
The new suite will double the current capacity, ensuring the majority of child patients can be treated in the new purpose-built facility.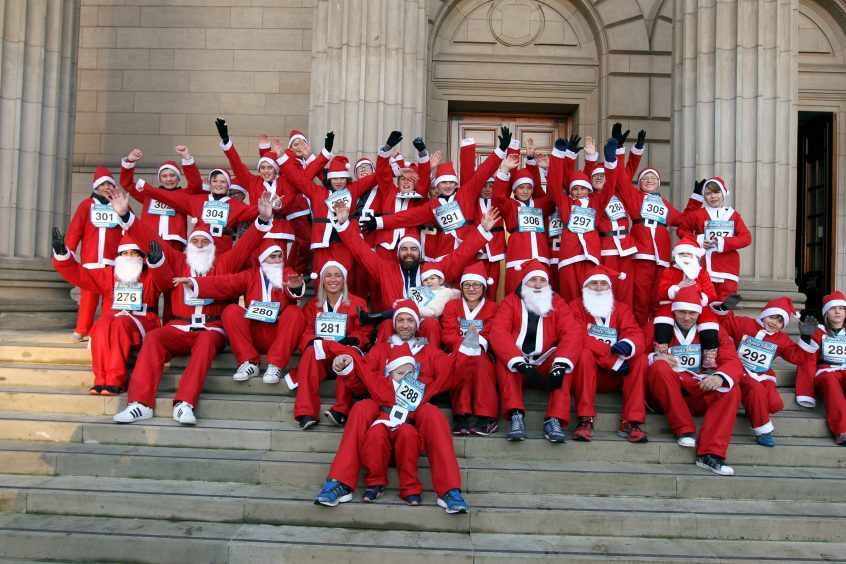 The children's unit is currently split between levels 4, 6, and 7 but the transformation will mean all three wards will now be on the same floor.
NHS Tayside has contributed £7.7 million to the building, while £1.8m has come from the Scottish Government for a multi-storey plant room.
The plant room will also service the adjacent neonatal intensive care unit (NICU).
Work is already under way at the site and is due to be completed in 2021.
Lorna Birse-Stewart, chairwoman of  the Tayside NHS Board, said: "I would like to congratulate the ARCHIE Foundation on reaching their target of £2m, it is really an outstanding achievement for the charity.
"I want to thank the people of Tayside as I am very much aware of the incredible support from members of the public who have rallied round and got behind the charity's vision to raise £2m for our new children's theatre suite.
"Our new facility is due to be opened in 2021 and the ARCHIE Foundation's contribution will make the difference in helping to create a wonderful, child-friendly, theatre suite which will benefit young people and their families in the coming years."
Designs by RDA architects were released last year, showing how the transformation of the children's hospital will look.
Builders Balfour Beatty hope to complete the work in the summer and the facility will be handed over to NHS Tayside for commissioning and opening later in the year.
Andy Crockart, Balfour Beatty project lead, said: "We are proud to be collaborating with the NHS to deliver the new state-of-the-art children's theatre suite at Ninewells Hospital, which will improve the experience of patients at Tayside Children's Hospital for many years to come."
How did we get here?
December 2013 – Partnership forged between NHS Tayside and the ARCHIE Foundation
November 2014 –  ARCHIE Foundation officially launched the £2m fundraising appeal for the Children's Theatre Suite
December 2014 – The first Beards for Bairns campaign was launched, encouraging people to give up shaving in exchange for sponsorship. The initiative became an annual success
May 2015 – A group of Ninewells hospital staff, their friends and family, scaled 130 Scottish peaks in just two weeks, raising £17,000
September 2015 – A gala dinner is held at Dundee's Apex Hotel, raising £20,000
November 2015 – The first Oor Wullie Bucket Trail project was announced
June 2016 – Bucket Trail was officially launched with a bus tour around more than 50 painted sculptures
September 2016 – An auction selling the Oor Wullie sculptures raises £883,000
January 2017 – Broughty Ferry furniture shop Gillies donates the £10,000 proceeds from its Christmas window display
March 2017 – NHS Tayside and the ARCHIE Foundation sign off design plans for the children's hospital upgrade
December 2017 – A Santa Dash in Dundee raises £5,000
March 2018 – David Wood is appointed chief executive of ARCHIE, following the departure of David Cunningham
October 2018 – A second Oor Wullie Bucket Trail is announced, this time extending from Tayside to Edinburgh, Glasgow, Aberdeen and Inverness
November 2018 – Scottish Government approves the business case for the children's hospital funding
December 2018 – 600 people take part in a second Santa Dash, raising £5,000
January 2019 – NHS Tayside consultant Dr Tom Fardon crosses the pond to run the New York marathon, raising £3,500
January 2019 – Plans formally approved for the hospital building works
March 2019 – A second ARCHIE charity ball raises £35,000
April 2019 Mark Beaumont has led a band of cyclists on a 129-mile journey, raising £18,000
May 2019 – Dozens of supporters abseil Dundee University's Tower Building
June 2019 – National Oor Wullie Bucket Trail launches
September 2019 – Bucket Trail auction raises £239,000
October 2019 – Construction work begins
December 2019 – A record-breaking 700 people take on the annual Santa Dash
March 202 to present – The UK enters lockdown, forcing the cancellation of fundraisers. Supporters rally round, organising socially-distanced events in exchange for sponsorship
December 2020  – The £2m target is reached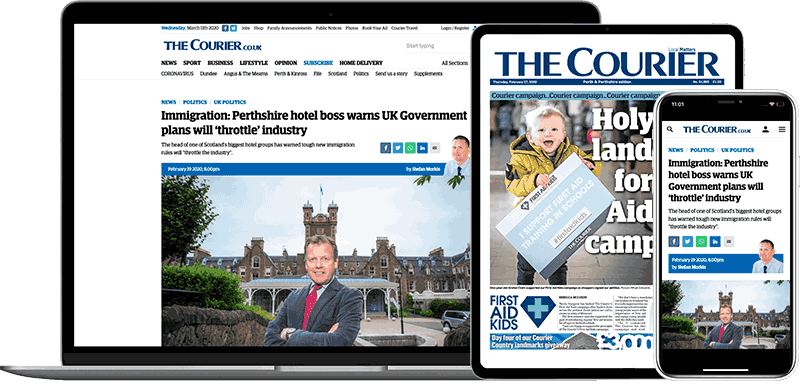 Help support quality local journalism … become a digital subscriber to The Courier
For as little as £5.99 a month you can access all of our content, including Premium articles.
Subscribe