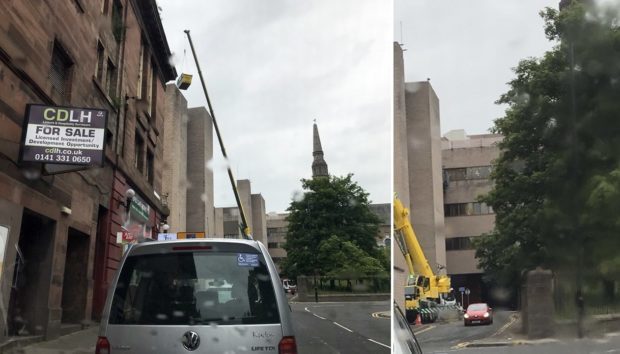 A company working on the Wellgate Centre insists safety is its "number one priority" after pictures of a car driving within metres of an operating crane emerged.
A concerned taxi driver sent pictures to The Courier which showed a crane hoisting a skip from the roof of the shopping centre, saying "members of the public were free to walk past and no one was around apart from the driver".
This has been rejected by Richard Nellis, owner of Abbey Electrical Mechanical Engineering Limited, who said all safety considerations have been taken into account.
The company are working on the new TJ Hughes retail outlet, which is expected to open in about 18 weeks.
Mr Neillis said: "All of our health and safety documents are in place with the centre and we have a fully qualified health and safety officer on site.
"He is not employed by us, he is independently contracted in, and was on the roof with a walkie-talkie when the crane was in use to direct everything.
"There were cones separating the sides of the road and we had people there to stop any cars from passing if we felt it was needed. At no point did the crane swing on to the other side of the road.
"If any pedestrians are around and we feel it is unsafe we stop them until it is safe to pass. Health and safety is our number one priority.
"We did look at closing the road completely, but came to an agreement with the centre as Iceland needed a delivery that day and it would have affected customer parking as well. The health and safety officer is here to monitor everything."
A spokeswoman for the Wellgate Centre said it "would not be appropriate" for them to comment as the "situation is the responsibility of the fit-out contractor, who is appointed by the retailer".
Mr Nellis remained upbeat about his company's work on the TJ Hughes shop, which is replacing the long empty BHS site, they are working on.
"The outlet has been sitting empty for years. They are opening other stores in Scotland and they are looking at this being a flagship one," he added. "We are here to do something good in Dundee."
Abbey have been working on the site for the past two weeks.