Every single sculpture featured in Maggie's Penguin Parade has arrived on the Dundee waterfront.
In a final bow to the hugely popular Courier Country trail which took place throughout the summer, locals will have one final chance to see all of the artworks gathered at Slessor Gardens this weekend.
The penguins will be on show on Saturday and Sunday in a final farewell before being auctioned off on Monday evening.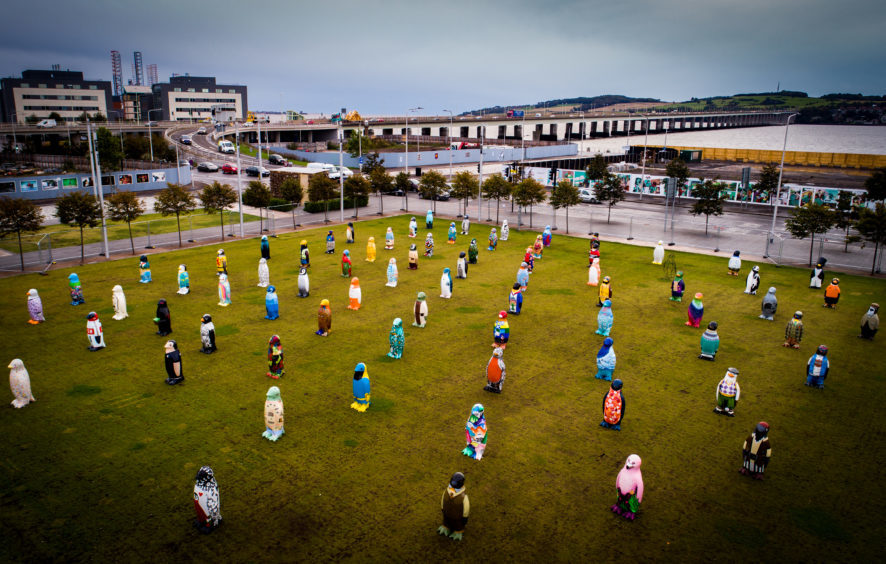 Every one of the birds has gathered in Slessor Gardens. As well as the large sculptures, the much-loved baby penguins and the secret "King of the Shoot" are on show.
The gathering of penguins on the waterfront has been filmed in amazing footage by Rising View.
Annie Long, project manager of Maggie's Penguin Parade, and fundraising manager for Maggie's Dundee, said: "We're so looking forward to the Farewell Weekend to see all our penguin pals together – not just the large figures, but their 100 baby cousins from the schools, too.
"This is the final chance to say goodbye to our fabulous penguins before they are auctioned and waddle off to their forever homes.
"If you missed any of them on the trail, this is a great opportunity to complete your app or sticker book.
"All proceeds go to the Maggie's Centre at Ninewells Hospital which supports people affected by cancer.
"Maggie's has provided the free Penguin Parade this summer, so if you have enjoyed it, help support our wonderful local charity."
Tickets to view the penguins one last time are available from Dundee Box Office in person, online or over the phone (16 City Square, Dundee DD1 3BG/01382 434940/www.dundeebox.co.uk).
All proceeds from the ticket-only Farewell Parade, which runs from 10am to 5pm on both Saturday and Sunday, will also go to Maggie's.
Costs are: £4 per adult, £2 per child (5-16 years old) and £10 for families (2 adults + 2 children). Under-5s go free.
For more info, click here.