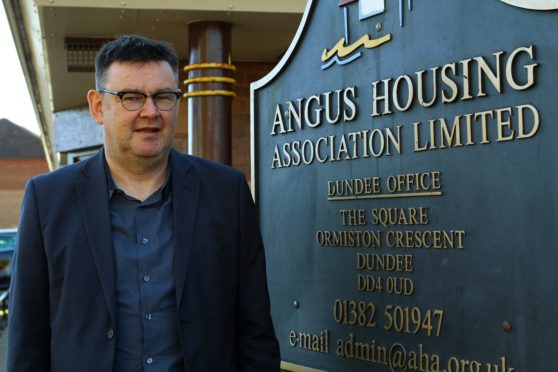 The director of Angus Housing Association has said the Scottish Government must spend money to ensure its new policy on tackling homelessness will be a success.
The government has developed a new action plan on tackling homelessness and given its backing to Housing First, a new scheme that will see people given a permanent home as soon as possible and then support to address other needs, such as addiction issues.
Currently, people who are homeless often stay in temporary accommodation until they are ready for a tenancy.
Bruce Forbes, director of Angus Housing Association said the scheme will only succeed if it given proper funding.
Writing for Scottish Housing News in a personal capacity, Mr Forbes stated: "From experience, its chances of success are pretty poor.
"We all know that homelessness is a far more complex problem than just finding someone a home.
"To even make a genuine attempt to end it needs a long term commitment to people with the complex mental health and addiction issues that need intensive, and very expensive, support at far greater levels of investment than is currently prioritised by the Scottish Government and local councils.
"Most importantly, we all know this in many cases, needs committed, experienced, highly qualified and consequently, well paid staff and co-ordinated services if success rates are to increase."
---
>> Keep up to date with the latest news with The Courier newsletter
---
Mr Forbes also criticised the Sleep in the Park event, which raises money for the Social Bite charity working to eradicate homelessness.
He said: "There seems to me to be a certain lack of taste, even respect, in predominantly well-off middle-class people raising money for those unfortunate enough to still be homeless by, for one night only, trying to replicate what the poorest in our society have to suffer every day of their lives.
"Of course, the fundraisers are also having a 'good night out', protected by their top of the range sleeping bags – no cardboard boxes here – and without the indignity of being kicked or spat on by drunken passers-by.
"I also wonder if they feel any pangs of guilt or can see the irony when they take a nip to keep out the cold. Do they wonder what falling off the wagon might do to some of those they are trying to help?"
Social Bite's website states alcohol is forbidden at all events due to the dangers of consuming alcohol and sleeping out in the cold.
A spokesman said: "Sleep in the Park isn't about replicating homelessness.
"It's about offering a tiny glimpse into this brutal reality, but more importantly raising awareness and funds to help people that have no choice but to sleep rough every night.
"With the funds raised we hope to help 830 people off the streets throughout Scotland including 100 people in Dundee."
Around 12,000 people are expected to take part in this year's four sleepouts in Dundee, Aberdeen, Glasgow and Edinburgh.