Michael Alexander meets lifelong Dundee FC fan Chic Kennedy who celebrated his 105th birthday in Broughty Ferry last week – and reminisced about days gone by…
As lifelong Dundee FC fan Chic Kennedy celebrated his 105th birthday with family and friends at Orchar Nursing Home in Broughty Ferry last week, it was a chance for him to reflect on a remarkable lifetime that has seen him live through two world wars, the Great Depression – and more ups and downs for the city's professional football teams than he might care to mention!
The grandfather-of-six and great grandfather-of-seven said the secret of living to 105 was simply "good food as a child" and, in recent years, doing the times tables in his head every day to keep his mind agile.
"The odd sherry or two also helps – but I was never a drinker!", he added.
But as the retired baker sat down for an exclusive interview with The Courier on Thursday afternoon to talk about the trials and tribulations of his life, it quickly became clear that having grown up during a time of mass poverty and disease in Dundee, he was lucky to survive childhood at all.
One of 11 children, Chic, the son of Dundee scrap dealer Thomas Marshall Kennedy, was born on January 7, 1914, at 28 Greenmarket – a top floor tenement which was demolished a few years later to make way for the construction of the Caird Hall.
As a youngster, he remembers his father going out every night to smoke his pipe and "put the world to rights" with other 'market boys' at 'The Chains' around the now demolished Royal Arch.
The family were "luckier than most folk" when it came to being able to afford to eat, he said, thanks to his father being in business.
However, money was still incredibly tight and when the family moved to a two-bedroom tenement at 43 Nethergate in 1916, he recalls the "terrible" conditions: the "unhealthy houses, vermin that were something awful and an outside toilet".
The overcrowding was exacerbated by the fact that in addition to their own family of 11, Chic's father took in three of his sister's children after she died as well as his old granny.
Chic says going to bed at night was "fun" and there was a "ritual" as the fold down cabinet beds came out in the extremely cramped rooms.
Despite being relatively well off, however, only six of the 11 Kennedy siblings made it to adulthood.
When Chic was three or four years old, he remembers his younger brother and sister John and Lizzie dying from tuberculosis in the same week.
"I remember the little white coffins going out the close," he said. "I had one on my knee. My father had the other on his. We went on a horse drawn cab to the cemetery. They were just bairns…"
Chic remembers the mass hunger marches and riots in Dundee during the Great Depression.
As a pupil at Tay Street School, he used to get a "bathie ticket" from Mr Hoy the headmaster – a system where going for a swim at the old waterfront swimming baths actually meant having a bath. He won the team race in an inter-school swimming competition –and years later he and his brother James used their swimming prowess to rescue two boys in difficulty in the Tay off Barnhill.
He has happy memories of holidays in Tayport where his parents used to rent a cottage in summer.
However, despite being offered a trial with Dundee Schoolboys in Perth, any hopes the football daft youngster had of becoming a professional player were dashed when his mum said he had to get a job.
Recalling how he could never afford football boots and used to have hours of fun using scrunched up newspaper as a ball, he left school two weeks before his 14th birthday to start work in a biscuit factory, earning two shillings per week. He secured full time work at Andrew G Kidd – working as a baker the rest of his working life.
Working in a "reserved" occupation, he served in the Home Guard during the Second World War – responsible for manning the anti-aircraft guns that were mounted at Kingsway East.
Marrying Betty – whom he met at the old Kingsway ice rink – on September 12, 1942, he remembers "like yesterday" the occasion when a Luftwaffe aircraft, apparently unable to find RAF Leuchars, "straffed" Nethergate.
"We were one storey up – the plane came down on its side past the window. What a fearsome sight it was. Gee whizz!", he said.
On another occasion he was sitting out on the sill washing the windows – his wife holding his legs to make sure he wouldn't topple out – when another plane came "shooting past". "It wasn't funny" he said, recalling how he almost fell.
Some of the most memorable battles of his life, however, involve his beloved Dundee FC – a team he first watched aged 12.
Chic laughs when he recalls children like him getting "sneaky ins" at Dens Park – hiding under men's coats as they went through the turn stiles.
He talks fondly of seeing legendary players like "the master" Billy Steel and Alan Gilzean.
He remembers "well dressed" Dundee United players, in the Second Division at that time, turning up at Dens wearing bowler hats for derby games.
When it comes to football today, however, he thinks the average footballer is overpaid and is saddened there are "no real stars". He also thinks there's "too much history" for a merger of Dundee and Dundee United to ever work. – because it would "chase the die-hard fans away".
Chic and Betty, whose son Tom and niece Catherine reside in Broughty Ferry and Monifieth respectively, lived in Canada for around 30 years after retirement – only returning to Dundee seven years ago after their daughter Ann, who lived in Toronto, died. Betty passed away a year past August.
But as Chic looks back on his time – laughing that instead of his annual birthday card from the Queen saying 'Dear Charles' it now says 'Dear Chic', he added: "I've had a very happy life."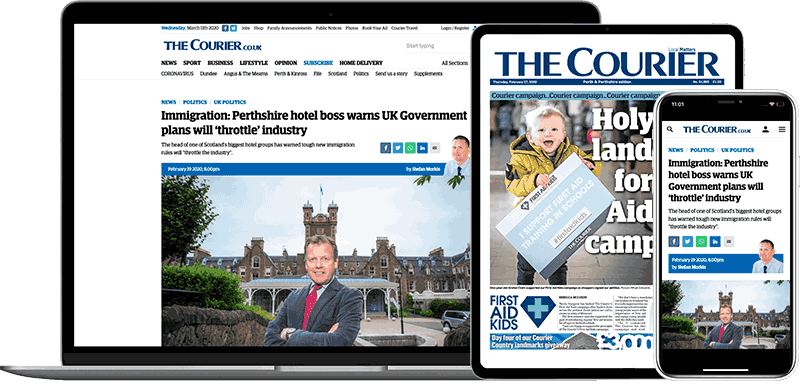 Help support quality local journalism … become a digital subscriber to The Courier
For as little as £5.99 a month you can access all of our content, including Premium articles.
Subscribe