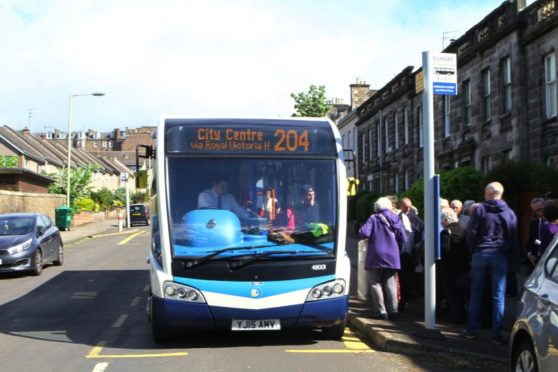 An elderly woman fighting to save a bus service has called on the chief executive of a council to step in to the row.
Rosemarie Mactippen, of Windsor Street, is upset at the potential loss of the 204 service which covers the West End of the city.
The Dundee City Council tended 204 bus runs to the city centre from Ninewells Hospital through Charleston, Lochee and the West End.
It is used by many elderly people who otherwise would struggle to get about the city as some do not drive.
The council tender is due to expire on August 10 as the authority removes its funding, thought to be around £20,000 a year, from the route.
A petition was set up by West End resident Leslie Ball which collected more than 240 signatures in a few days.
In the latest step Mrs Mactippen, 79, has written to David Martin, chief executive of the city council, to step in to the row.
She said: "I use the 204 service at least four days a week. I no longer drive.
"Removing the 204 service will be a great inconvenience and disappointment to us.
"We take advantage of this service to get to the shops in town.
"We also use this bus in the opposite direction to visit elderly friends and occasionally to go to Ninewells Hospital."
In her email to Mr Martin, she said: 'West End Dundonians ask you to kindly help residents keep the 204 bus in operation.
'The 204 service is vital for the many elderly and uphill-trekking-challenged persons living in the area.
'The various routes up to buses on Perth Road prove insurmountable to elderly and disabled folk, especially during winter.
'We had even requested the 204 service be more frequent than hourly.
'Without the 204 many if us will become housebound and miss out on activities and meeting friends.
'Not everyone can afford to take taxis or hire a chauffeur. Many of us are no longer even able to drive.'
To replace the 204 service the council intends to use its mini buses as a free hail and ride Blether Bus service in the West End to take people up to the bus stops on Perth Road.
A council spokesman said: "The council recognises the importance of transport services to elderly passengers across Dundee.
"The Blether Bus is a free hail and ride service, operated using council minibuses, which can pick up and drop off anywhere along the route."
Residetnts were invited to sessions with the council to discuss the planned route of the Blether Bus in the West End.