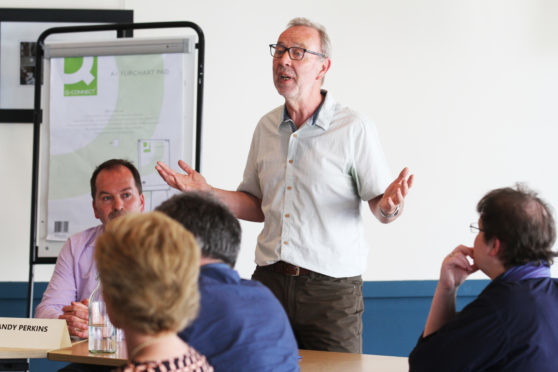 The Dundee Drugs Commission has today launched its report into drug addiction and abuse in the city.
More than a year in the making, the commission was tasked with investigating why the city was experiencing higher rates of addiction and drug-related death than elsewhere.
The commission gathered evidence from more than 1,000 sources, including medical professionals, recovery workers, scientists and drug dependent people.
Sixteen recommendations for change have been put forward by the commission, with time scales to implement ranging from months to years.
Robert Peat, chair of the commission, said: "Since starting our work in May 2018, the commission has heard from or spoken to over a thousand people either directly or indirectly affected by the issue of drug use in Dundee.
"I am pleased to present our report to the Dundee Partnership. I believe we have completed a robust analysis and our report has 16 challenging recommendations for the Dundee Partnership to address.
"In so doing we feel that the situation in Dundee can be turned around and that there will be a reduction in the number of drug related deaths in the city.
"One of our key recommendations focuses on leadership and it is the collective leadership in the city which must now show the determination to stick with what will be a difficult task over the coming months and years ahead.
"We found a system of treatment and support which we describe as fractured. All of the services in Dundee must work with a concerted effort to implement the necessary changes. The problems of the past must be left behind, and a culture of openness, honesty, respect and trust must be central to the Partnership as it takes forward this work.
"Our recommendations also focus on treatment and support, drug related deaths and mental health. We heard heart breaking testimony from families and friends bereaved by drug related deaths. Every life is precious and every death matters. These thoughts have guided our work.
"We see our work linking with the Dundee Fairness Commission and the Independent Inquiry into Mental Health Services in Tayside.
"There can be many complex factors which result in a person becoming involved in drug use and it is with a range of effective support available and the delivery of that support with kindness, compassion and hope that things will improve that will make the required difference.
"The Partnership in Dundee and the wider community now have the opportunity to show this compassion, kindness and instil hope for those in the city whose lives are affected by the use of drugs."
For more on this story, pick up Saturday's Courier. Or why not try our digital edition?