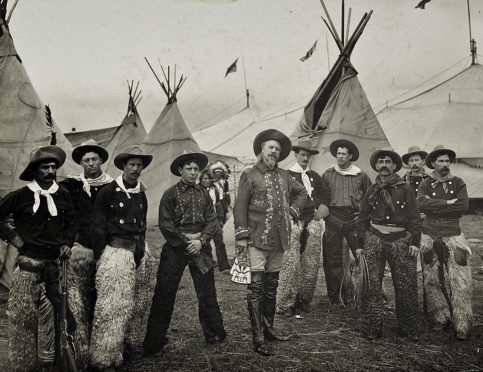 It was the Wild West extravaganza which brought Buffalo Bill and gun-toting Annie Oakley to Tayside and Fife.
The Wild West re-enactment which featured cowboys, cowgirls, horses and Native Indians is being remembered 150 years after Buffalo Bill's legend was born.
He served in the American Civil War and, in 1867, he began buffalo hunting to feed railroad constructions crews, which gave him his defining nickname.
William Frederick "Buffalo Bill" Cody estimated he killed 4,280 buffaloes in around 18 months.
It was in 1869 that Buffalo Bill became world famous when he met Ned Buntline who published a story based on Cody's adventures and then published a highly successful novel, Buffalo Bill, King of the Bordermen.
Buffalo Bill's Wild West show later travelled around the United States, Continental Europe and Great Britain including a highly successful three months at a Glasgow showground in 1892.
The performers, including a tribe of Sioux Indians, returned for a wider tour, when they travelled by train to 29 towns and cities including Arbroath, Dundee, Dunfermline, Forfar, Kirkcaldy and Montrose in August 1904.
The Wild West Show had entertained vast crowds in Dunfermline and Kirkcaldy with 800 people and 500 horses when the entire ensemble was hauled north to set up at Dundee's Magdalen Green.
The newspaper advertisement for the event described Buffalo Bill's show as having three special trains, in an "exhibition that has no counterpart".
His trip wasn't without incident, of course.
In Dundee, firefighters were called to put out a blaze in a goods yard, most likely caused by one of Cody's trains passing through.
The show was a re-enactment of the legend of the Wild West and never before were there such immense crowds.
Dundee Corporation organised trams to ferry the populace to two shows a day over three days which were visited by an estimated 74,000 people.
Where the Portcullis Bar is now was the location of the Wild West Show in Arbroath at Culloden Farm on August 22.
There were further dates at Market Muir in Forfar and Burgess Park in Montrose.
Tayside rail enthusiast John Ruddy said: "Until the 1950s and 1960s most goods travelled by train, but no stranger delivery would have been made than the three massive trains which carried Buffalo Bill's Wild West show to Arbroath, Forfar and Montrose in August 1904.
"Such a tour could probably not have taken in so many venues across Scotland and the UK before, allowing even the smallest towns to experience the massive extravaganza.
"The fact that the whole entourage of hundreds of performers, including a tribe of Sioux Indians and a great many animals were moved on a daily basis from town to town would a major headache today, yet the railways managed it smoothly, and almost without incident.
"Towns such as Hawick, Fraserburgh, Peterhead as well as Arbroath, Forfar and Montrose all were able to benefit from the railways ability to transport virtually anything to anywhere.
"With talk of the railway returning to Hawick is it too much to think that soon it will return to Forfar as well?"
The shows consisted of reenactments of history combined with displays of showmanship, sharp-shooting, hunts, racing, or rodeo style events.
The grand finale of the show was Attack on the Burning Cabin in which Indians attacked a settler's cabin and were repulsed by Buffalo Bill, cowboys, and Mexicans.