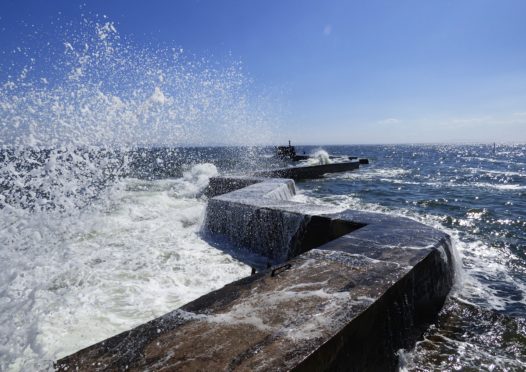 A new website has been launched to coincide with a drive to market St Monans in Fife as "The Photography Village".
Landmarks including the windmill, ruined salt works, the remains of Newark Castle and the Auld Kirk have made photographers travel for miles to capture some of the region's most picturesque sights.
Not to mention the zig-zag breakwater at the harbour, known locally as The Blocks.
St Monans is already home to the Jim Matthew Camera Collection, which includes one of the most complete collections of Kodak Brownie cameras in the world, as well as stereoscopic and 3D cameras.
And photography is a feature of the annual St Monans Community Arts Festival.
Local organisations want to put the village firmly on the map and are behind a campaign which includes the creation of the stmonans.photography website featuring snippets of local history and a gallery showcasing stunning local images.
Gordon Bell, director of the Jim Matthew Camera Collection Trust, said: "We see several strands coming together in support of our being a significant destination for people throughout the world with a keen interest in photography and its history.
"Our village has several features that are on many photographers' hit lists. People travel hundreds, and sometimes thousands, of miles to photograph our famous zigzag breakwater, better known as The Blocks locally – images of which have won major photographic awards.
"Others will be checking out the rest of the harbour area, with its quirky Welly Boot Garden, or the windmill and salt pans, or the ruins of Newark Castle, or the Auld Kirk, with its dramatic location closer to the sea than any other church in active use.
"And there is plenty more – not least the dramatic scenery and great opportunities for landscape and wildlife photography."
Among the acclaimed photographers who have gone out of their way to capture The Blocks is Chicago-based Reuben Wu, who as well as providing spectacular commissions for major global firms is a founding member of the electronic band Ladytron.
Wu photographed the breakwater while the band was rehearsing in Glasgow in November 2018.
I took off one night last week to see the beautiful zigzag breakwater at St Monans in Fife. Jet lag is good for something… pic.twitter.com/0iXN0Hmn1Y

— Reuben Wu (@Reuben_Wu) November 1, 2018
He said: "We were doing our first live rehearsals as a band after seven years in Glasgow.
"The breakwater was a place I had wanted to photograph for years so I grabbed the opportunity and rented a car to drive out there in the middle of the night.
"The breakwater is lit with a drone modified to carry LED lights so it was important that it was really dark during my shoot. It's such a strange looking breakwater. I find the composition deeply poetic and I was excited to see it in person."
Dave Smith, who is also a director of the Jim Matthew Camera Collection Trust and organises the local photography competition, said:  "We are linking the various strands together, with this announcement, and by building on them with a coordinated approach to promoting them, including a new website dedicated to the role of photography in our village."