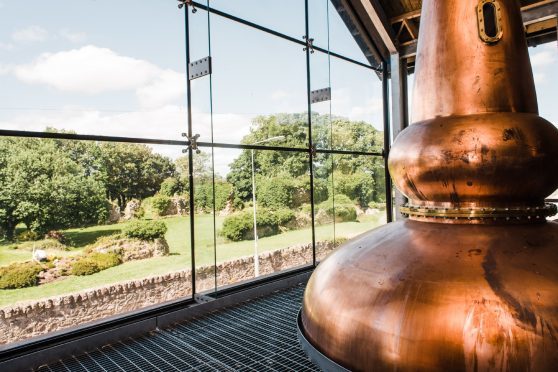 Whisky production will return to its historic Fife home on Wednesday ending a drought of more than half a millennia.
The first recorded cut of distilled spirit since 1494 will be captured at Lindores Abbey Distillery to mark the completion of the site's return to the industry.
The abbey's distillery opened in October on the site of Scotland's first recorded whisky distillation.
The exchequer rolls of 1494, note that Friar John Cor of Lindores Abbey in Fife paid duty on eight bolls of malt to make aqua vitae for King James IV.
As a result, Lindores Abbey is recognised as a place of global whisky pilgrimage and its custodians, Drew and Helen McKenzie Smith, have devoted 20 years to establishing a distillery and visitor centre on the site.
With around 150,000 litres of spirit a year to be produced, Gary Haggart, distillery manager, said that he was proud of the work undertaken ahead of Wednesday's momentous event.
"Distilling the first spirit at Lindores Abbey in more than 500 years is such an honour, and with this innovative and world-class distillery behind me, it's now the task of the team here to produce a Scotch Whisky worthy of its spiritual home.
"We're looking forward to that challenge, using all of the expertise and passion Drew and Helen McKenzie Smith have garnered from across the industry, and it will be our pleasure to welcome whisky pilgrims through our doors to share in the spirit of this unique place."