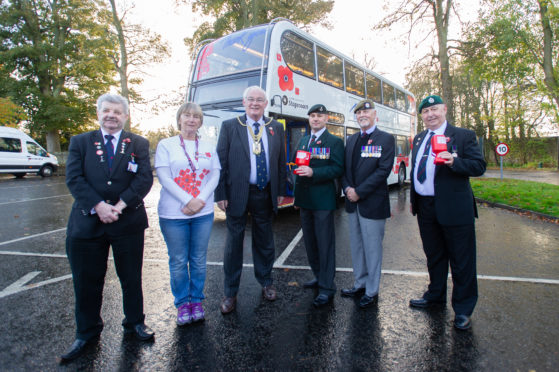 Stagecoach East Scotland is supporting Remembrance Sunday by offering free travel throughout the day to armed forces personnel.
The bus company will let armed forces personnel on for nothing on November 11 if they are carrying a military ID card, and have extended the offer to veterans wearing the veteran's badge.
With Remembrance services planned at memorials across Scotland, it is hoped that personnel wishing to pay their respects will take up the offer to travel for free to the service of their choice.
Stagecoach East Scotland also recently launched a specially branded Poppy bus, in support of the Poppyscotland 2018 appeal. It is now operating on routes around Fife and will remain in service for the next year.
Robert Andrew, managing director for Stagecoach Scotland, said: "Once again, we are proud to be supporting Remembrance Sunday in this way by providing free travel for Armed Forces personnel and veterans.
"This year, 100 years after World War I ended, we are supporting our armed forces to say 'Thank You' to all who served, sacrificed and changed our world.
"Through our support we hope we can send a clear message to our Armed Forces communities in East Scotland that we appreciate and recognise the commitment they have made to our country over the years."
Stagecoach Group signed the Ministry of Defence's Armed Forces Corporate Covenant in support of the Armed Forces Community.
As a signatory of the Covenant, the company recognises the value serving personnel; regular and reservists, veterans and military families contribute to both the country and businesses across the country.