The Kingdom's favourite musical duo have returned with a new Christmas cracker sure to fill music fans across the globe with festive cheer.
Garry Griffin and Uncle Isaac of The Brothers Fife have looked out their denim jackets and released their fourth yuletide track, Wintertime Lovin', to the delight of their ever-growing fan base.
And the pair – whose musical style harks back to Scotland's greats, from The Proclaimers to Andy Stewart and the Alexander Brothers – are due to take to the stage for their first two live performances next weekend.
While last year's Christmas track A Little Love For Christmas documented Isaac's desperate quest for romance in the cold winter months; Wintertime Lovin' picks up with the Fifer besotted with the woman of his dreams.
The Brothers' latest tune strikes a totally different beat from the 2017 track right from the off, opening with the line: "Will you be my angel in the tree? All I need is some wintertime lovin'."
Speaking exclusively to The Courier, Griffin said several "D-list" Scottish actors had originally been teed up to star in the Uncle Isaac role in the 2018 video.
Ultimately, deciding there was no one better for the job than himself, Isaac donned his kilt, red bow tie and denim jacket and got in front of the camera once again.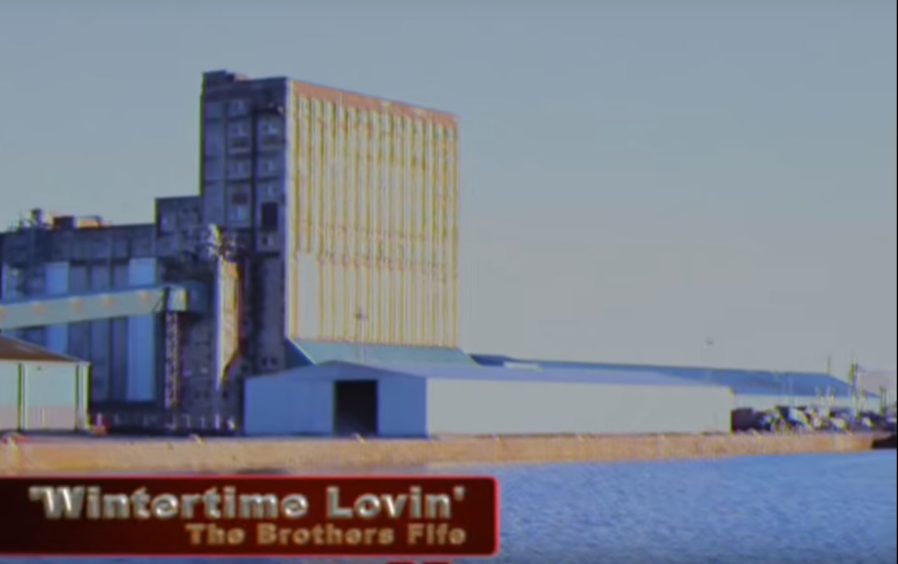 Griffin said: "We needed a really strong male lead in the video. We did auditions for the (Isaac) role, but Isaac said he was the only person who could portray this.
"We wanted it to have a cinematic story and cinematic feel, so really you feel for Isaac."
In tribute to the legendary Reid twins, the retro music video was filmed in Leith's Shore area.
"We wanted to do a big pop song that was in good spirits because last year we went a bit melancholy. This year Uncle Isaac has found somebody," he said.
"We wanted a positive, family song. The Proclaimers' Sunshine on Leith track was (filmed) around that area in a cafe. We took inspiration from the greats.
"We wanted it to have that kind of industrial feel and of course the Shore is quite a remarkable place anyway."
Griffin added that "convincing as it from the video", Uncle Isaac and the actress portraying his lover in the video are not in fact romantically involved.
VIDEO: Fife Brothers Uncle Isaac and Garry Griffin show driving ambition with festive love track
"It's had an absolutely fantastic response," he said.
"We were asked by the bar the Dragonfly in Edinburgh if we'd like to do a live show. We expected to sell maybe about 20 tickets. The first night sold out at 50 tickets.
"We put on another show due to popular demand. We've had to turn people away.
"We did a wedding once, but this is our first foray on to the stage. We are quite excited to do a meet-and-greet with the fans. We promise a heartfelt, entertaining show.
"We will be sticking to our own material, playing our most-loved songs."
Beyond the live shows, what does the future hold for The Brothers Fife?
Fans will be delighted to know that a Scottish football anthem could be coming their way in March.
'L-O-V-E-R-S': Fife's favourite sons return with romantic Valentine's Day hit
"With Scotland's success in the Euro 2020 qualifiers, we are going to try a football song for them – to support the team," said Griffin.
"We are taking inspiration from We Have a Dream, reaching out to the Scotland team."
Garry Griffin and Uncle Isaac are the stage monikers of Grant Jeffrey, originally from Kingskettle, and Andrew Lennie, of Newburgh.
The pair found online fame after releasing their first festive song as The Brothers Fife in December 2015, and since then their tunes have become a festive tradition in the Kingdom and beyond.
Christmas Holidays –  made as a Christmas gift for Mr Lennie's family after the pair found themselves "pretty skint" – was followed by Proclaimers tribute, Christmas (I'm A Fan) in 2016.
The Brothers Fife are playing the Dragonfly on December 21 and 22.