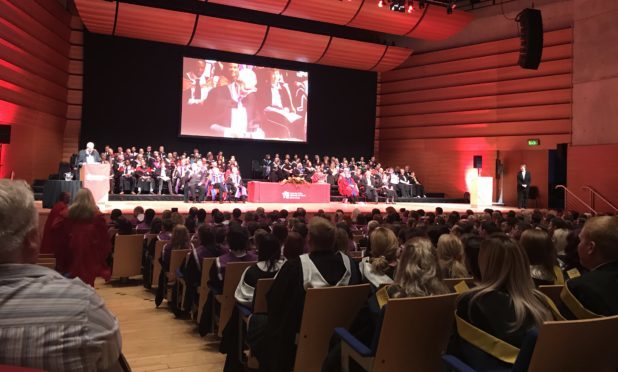 A student body has urged bosses at crisis-hit Perth College to make "real change and rapid progress" to safeguard jobs and improve staff morale.
The Highland and Islands Student Association (HISA) says financial troubles at the Fair City establishment could jeopordise the quality of teaching and the student experience.
The college, which is part of the University of Highlands and Islands (UHI), needs to make savings of £600,000. Principal Dr Margaret Cook last month announced a series of job losses as part of a cost-cutting drive.
The announcement led to questions about financial management at the college, and calls for a formal inquiry.
EIS-FELA, Scotland's largest teachers' union, voted unanimously to back a vote of no confidence in senior management.
Now HISA has declared it is ready to work with the college to "ensure the quality of the student experience is preserved".
Amy Studders, president of HISA Perth, said the group was very concerned about the potential impact of cuts.
"Throughout the entire process, we are clear that Perth College UHI must ensure that there will be no negative effect on the student experience here as a result of savings that are being made," she said.
"This is another symptom of the Scottish Government's chronic underfunding of Scotland's college and university sector, and highlights the need for this funding gap to be addressed as a matter of urgency."
Regional HISA President Alan Simpson added: "Our primary concern is for our students. The high level of teaching and student support at Perth College UHI should not be lost or jeopardised as a result of these financial challenges.
"HISA is concerned for the morale of the college staff. We know that our students' experience is better and students achieve more when lecturers and support staff are happy in their work and not worried about losing their jobs."
Mr Simpson added: "There have been attempts to change UHI into a modern and financial sustainable university over the years, and each of these attempts has failed.
"It's time for UHI and its academic partners to be brave, bold, make tough decisions and work together for the good of its students and staff.
"Real change and rapid progress are required in UHI now to protect jobs and the student experience. The world is evolving quickly and any hesitation by key decision-makers in UHI would be harmful to the future of UHI, its students and its staff."
A Perth College spokesman responded: "For the long term sustainability of Perth College UHI, It is clear we need to make savings and the first guiding principal of our proposal document is to protect the student experience throughout the process.
"We have a strong working relationship with HISA and have already met with them to reassure them of our commitment to the protection of the student experience and will continue to work with them (HISA) during the consultation period on the content of the proposals that will form our plan moving forward."
A Scottish Government spokeswoman said: "We are being kept fully advised on the situation at Perth College by the Scottish Funding Council, who are working in partnership with regional strategic body, the University of the Highlands and Islands.
"Ministers are clear that it is a priority for these organisations to analyse the underlying issues and identify the best way forward."