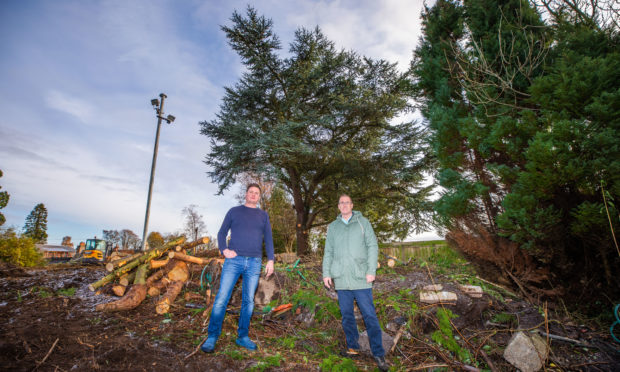 Housebuilders have asked to alter their plans for a town centre development in Crieff after a dispute over chopping down a 150-year-old tree.
Struan Homes had earmarked the space occupied by a cedar tree which was planted in the 19th century for parking at their Mitchell Street development, where 14 homes are being built.
Neighbours Peter Flett and Richard McWhinney took umbrage at the proposals to hack down the evergreen, but developers Struan have said they have asked to adjust their blueprints to save the tree.
A spokesperson from Struan Homes: "We made a plea to Perth and Kinross Council to allow us to retain the tree in question and notified both Mr Flett and Mr McWhinney of same on November 15 of our intentions.
"Perth and Kinross Council confirmed that they would consider the proposal to retain the tree and take advice from their roads department as to whether we could amend the design of the road way and parking to do just so. We await their response.
"The main constraints placed upon our designs were that of parking provision and bin lorry collection, hence the current design that has been approved. We hope that our recent appeal will be favourably heard by the council to retain this tree and allow us to work around it.
"It was always our intention to try and retain as many native mature trees where possible and to further augment the development with new planting of native species during the development of the site."
The local authority's planning department have confirmed that removal of the tree would be allowed, but it is now up to the roads team to make a call on Struan Homes' proposed alterations.
A Perth and Kinross Council spokesperson said: "Planning permission granted included consent for removal of several mature trees at the site and following inspection by council officers, we can confirm that the trees that were removed were those that had been previously approved.
"We recognise the concerns that have been raised by residents regarding the loss off trees at the site, we have also approved a landscape plan which seeks to provide compensatory planting that will integrate the development into its surroundings."