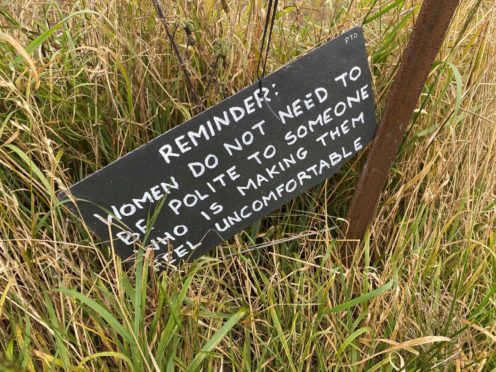 Headteachers in Perth and Kinross have been instructed to shield children from "harmful" DVDs sent to schools by a Creationist group accused of pushing a strong anti-transgender message.
The organisation Truth In Science has targeted primaries and secondaries across the region, as part of a UK-wide campaign. Senior staff received copies of a 28-minute documentary titled The Transgender Agenda, raising concerns about "how the most vulnerable in society may be confused about their own gender identity."
The alarm was raised by local LGBT+ charity Perthshire Pride, after the controversial film – which describes gender dysphoria as a mental disorder – was passed on by a concerned teacher at a Perth primary school.
The council has now asked headteachers to disregard the film, and not to show it to children.
Perthshire Pride has meanwhile condemned a series of handcrafted "trans-exclusionary" signs that have appeared out-of-the-blue around Blairgowrie and Coupar Angus.
The posts show what appears to be a pro-feminist message, but contains links to websites with contentious views on transgenderism, including ones challenging the Scottish Government's gender reform plan which would allow transgender people to self-declare their gender identity rather than requiring a medical diagnosis of gender dysphoria.
The signs, which have been found in remote parts of the countryside, also namecheck controversial figures in the transgender debate including comedy writer Graham Linehan, who was recently booted off Twitter, and Fair Cop, an online campaign highlighting police action against social media posts.
The DVD and the handmade signs appear to be unconnected, although it is not clear who is behind the signs.
Perthshire Pride co-chairperson Claire Mackenzie said: "We absolutely condemn these signs. It does appear that they are trying to fool people into believing they are spreading a feminist message.
"But when you read between the lines, it is promoting a very trans-exclusionary agenda."
She said: "The Truth in Science DVDs are pushing the same idea. If you're not super clued up on the transgender debate, something like this could be quite convincing.
"But it is full of misleading information and it is a real shame it is being sent out to schools.
"They are potentially very harmful, particularly when masquerading as something else."
A Perth and Kinross Council spokesman said: "Perth and Kinross Education and Children's Services are aware that a DVD titled The Transgender Agenda has been sent, unsolicited, to some of our schools by the Truth in Science Organisation.
"Schools deliver inclusive educational experiences for pupils where facts are presented in an objective, balanced and sensitive manner, appropriate to each child and young person's age and stage of development.
"Lessons are planned around experiences and outcomes identified within the framework of Curriculum for Excellence."
He said: "The Truth in Science The Transgender Agenda DVD has not been approved by Perth and Kinross Education and Children's Services as a curricular resource for use within our schools and therefore staff have been advised not to share it with children and young people."
A spokesperson for LGBT charity Stonewall said: "Trans people are facing horrific levels of harassment and intimidation in their daily lives.
"Our 2018 Trans Report revealed that one in eight trans employees (12 per cent) have been physically attacked at work, while two in five trans people (41 per cent) have experienced a hate crime or incident in the last year."
The spokesperson added: "These are not just statistics, they represent the lives of trans people, which are only being made worse by increasingly frequent attacks in the media, online and in public spaces. Each of us has a role to play in making sure trans people are safe, respected and valued in our communities."
Truth In Science could not be reached for comment, with only a PO Box address in Folkstone attached to the group's letter. It states: "We have no agenda other than the well-being of children, and to see them develop into healthy well-rounded adults with an opportunity of a full life."
The same group has previously promoted creationism and intelligent design.
Organisations mentioned on the anonymous signs, including transgendertrend.com and forwomen.scot have strongly denied they are anti-trans.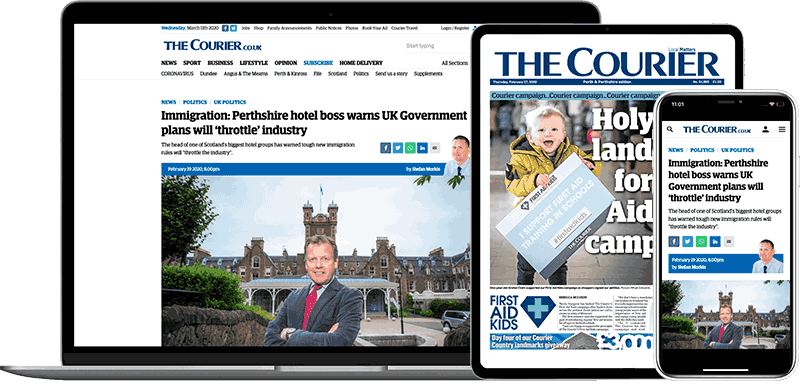 Help support quality local journalism … become a digital subscriber to The Courier
For as little as £5.99 a month you can access all of our content, including Premium articles.
Subscribe