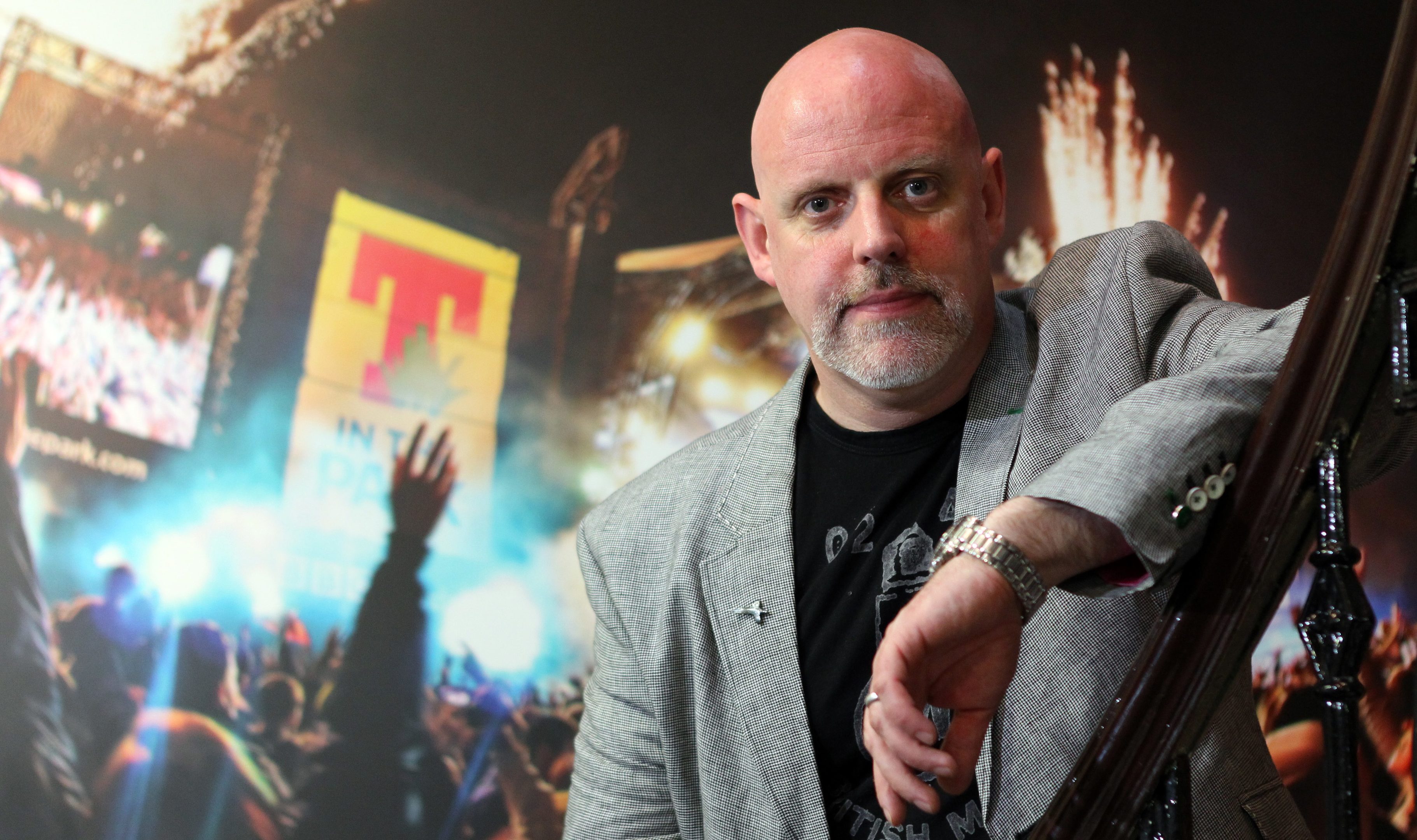 T in the Park boss Geoff Ellis says the festival is very much here to stay despite criticism following the tragic deaths of two teenagers.
The major music event at Strathallan Castle started in sombre fashion when it emerged that two young people died in separate incidents on Friday, while images of drug taking and violence have been circulated on social media.
That has led to calls from some quarters for the festival to be scrapped, but Mr Ellis insisted the show will go on for the foreseeable future.
"It was a very sad start," he told The Courier.
"For two young people to not go home from a festival is very, very sad.
"Obviously our thoughts and sympathies are with their families and friends – they obviously had a lot of friends here with them who were very upset as well.
"I'm not just speaking for myself and the festival, but seeing the police, seeing the medics who have more experience in dealing with these sorts of things and dealing with them regularly…you can sense the real sadness there.
"T in the Park is a real community and it's like a death in the extended family.
"We didn't know the two people individually, but lots of people at the event did.
"It's very sad, it's tragic, and it was at the start of the festival. We have to carry on with the festival and we've got a lot of people here who have probably become aware of what happened.
"But I think Friday was a great day, with great weather and had what I thought was a great atmosphere.
"Of course it's hard to say the festival has been going great because we've had such a tragedy and we've had a bit of rain to deal with, but people are enjoying themselves.
"We've had some really good performances and the ground conditions have held up as well because we had some really good weather for the first couple of days."
And answering critics of the festival in light of recent events, he added: "I think the atmosphere is great. People are having a great time generally.
"We always say to people 'please be safe, don't experiment with drugs, don't drink too much, keep yourself hydrated, enjoy the festival, look after yourself and look after your friends'.
"T in the Park is here for the long term, and I have to say I think the mood out there is a good one, people are happy and people are enjoying themselves.
"Other than the tragic news at the start of festival, people are enjoying themselves generally.
"The facilities are much better and the roads are much better, so it's all working in that respect."
The Strathallan Castle site hosted T in the Park for the first time last year following the switch to Balado and suffered from various teething problems – most notably the traffic chaos in and around the area.
However, Mr Ellis reckons the tweaks made prior to this year's festival have worked, with T settling into its new home well.
"I think the traffic management plan has worked very well and there has been very little traffic on the roads," he explained.
"People have obviously listened to the advice and I thank fans for doing that, using the official pick up and drop off points.
"I appreciate it's a bit of a walk, but it's a safer option and keeps people off the roads.
"We didn't get it right last year but I think this year the layout is much better and people can get to the stages much easier.
"I think last year people were frustrated because they were caught in cross moving crowds, but I think this year has been much smoother and the new Main Stage position has really worked.
"You've got quite a natural slope as well so even if you are quite far back you still get a really good vista.
"It's a much better investment for the fans this year than it was last year.
"Last year was the first year here and it was a difficult first year, but this year it has gone very smoothly.
"Next year will be less about fixing problems and more about making improvements on what we've done this year."
There have been a total of 23 arrests at the festival thus far.