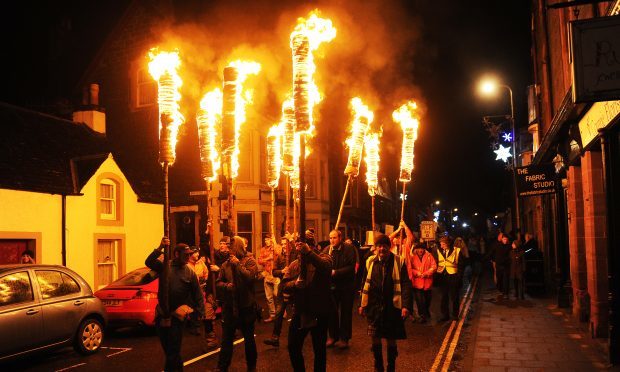 Communities across Courier country tapped into a pagan past as they welcomed in the New Year.
Torchlit processions harnessed the cleansing power of fire in various ceremonies with the Comrie flambeaux the most well known locally.
While the origins of the ancient custom are lost in the mists of time, local volunteers enthusiastically maintain the tradition.
As midnight fell the torches of thick birch poles with tarred rags bound to the tips were paraded around the village behind a pipe band.
The torches were then cast into the waters of the River Earn to signify banishing evil spirits.
In Newburgh the Oddfellows torchlit procession was the village's traditional way to welcome in 2018.
While these are two of the better known celebrations, the common theme throughout local villages and towns was the sense of community as people came out onto the streets to mark an occasion together.
In times when people's lives seem to get ever more insular it was a heartening reminder of what makes a community — how individual people interact and work together.
This is against a background of a decline in communal activities with pubs closing their doors and attendances at sporting events tumbling.
Having spoken up so strongly for community activities you would imagine I spent New Year's Eve carrying a blazing torch aloft or at least sitting with convivial company in a local pub as the bells chimed.
Well…if truth be told I was at home with the curtains drawn leaving the communal camaraderie I have lauded to everyone else. And the lights went off good and early in case any sociable neighbours had the temerity to first foot — Happy New Year!