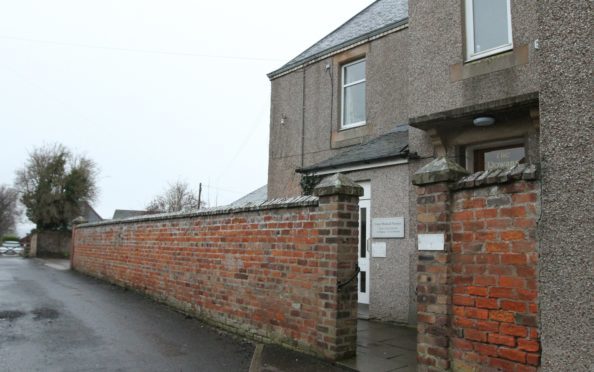 Residents in the Carse of Gowrie could stage a community buy-out of their doctors' surgery.
The ambitious proposal will be discussed at an event in St Madoes tomorrow.
The session has been organised by the Carse Medical Group after a previous plan to build a temporary GP surgery at Errol collapsed.
The bid, submitted by the Carse practice and Morris Leslie was withdrawn, amid concerns about its location near a busy local road.
It means doctors at the Errol practice will have to move to a portable cabin at St Madoes this month after the former surgery in the town was put up for sale last year.
Residents fear the move is the thin end of the wedge and that they risk losing their local GP service altogether.
Scottish Conservative councillor Angus Forbes said he was delighted the community feel strongly enough to consider a buy-out.
"This shows the strength of feeling there is in the area to keep the GPs there," he said.
"Every single person who talks to me about this praises the health care they get and its right that they want to keep it.
"However, this is a matter for NHS Tayside to resolve. This issue has been on the horizon for a long time now and could have been resolved much sooner rather than leaving the GPs and the community hanging on at the very last minute."
The proposal has been gaining traction among locals on social media and elsewhere.
Ron Gillies, who co-owns Cairn o' Mohr winery at Errol, said it was worth considering, adding: "The Scottish Government has funding for community buy-outs."
Another resident, Melinda Farrell, suggested patients pay £1 to cover a mortgage.
A spokesman for Perth and Kinross Health and Social Care Partnership insisted it was committed to keeping GP care in the Carse, adding: "Local GPs, Perth and Kinross Health and Social Care Partnership and NHS Tayside continue to work closely together and are committed to ensuring GP services continue to be provided in the Carse of Gowrie area.
"Perth and Kinross Health and Social Care Partnership and NHS Tayside are working closely with the GP Practice as they develop plans for permanent premises.
"These plans will be developed in partnership with the practice and the local community.
"The feedback and support from the community and local councillors has been greatly appreciated, and we will continue to work together to ensure the uninterrupted delivery of primary care services to the Carse."
Residents will have an opportunity to discuss the proposed community buy-out at the drop-in session being held on Tuesday, between 5pm and 7pm at St Madoes GP surgery.