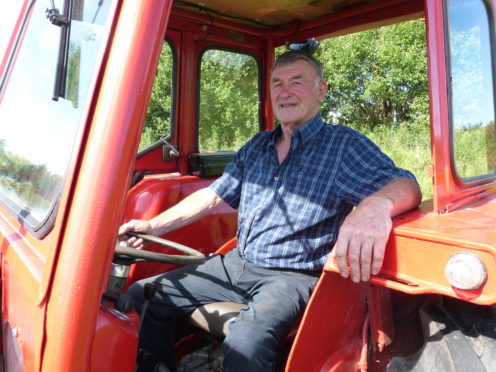 Crieff tractor man Jimmy Hutchison was only five years old when he tagged along with his big sister to work at the potato picking on a local farm.
He hasn't missed a single tattie harvest since.
On Saturday at Perth Show, Jimmy, 75, will be presented with a specially engraved 60 years of service medal by the Royal Highland and Agricultural Society of Scotland, marking a lifetime in the career he loves.
"As a wee lad I was just a pest and they used to throw me in the back of the trailer with the tatties," he said.
"It wasn't until I was 15 years old that I could go to work full-time, for a starting wage of £4 a week."
Jimmy, who grew up in a cottage between the two now long-gone railway lines that led from Crieff to Perth and Auchterarder, secured work with Tainsh contractor farmers, originally at The Holdings, with the late Jimmy Tainsh Sr.
Throughout his service, he has worked alongside four generations of the Tainsh family, now based at Drummond Earnoch near Comrie.
"I was offered a job at the local grocery store where I worked as a message boy after school," he said.
"But I wanted to be on the farm.
"I've always loved tractors and I've always loved the outdoors. Farm tractor man was my ideal job.
"It was tough in those days – long hours, hard physical labour and cold and wet when the weather turned bad," he said.
Jimmy did everything from hoeing and thinning turnips to sitting on the seeder to ensure the flow of grain before he secured his permanent place as tractor man.
"My first new tractor was a £600 Super Major and I thought it was the best thing ever because it had a cab and a windscreen wiper.
"Nowadays a tractor will do a huge field in a day and they're luxurious machines to drive. It's very different times."
A series of increasingly modern tractors saw Jimmy have the first one on the farm with a radio in the 1970s, and he could not believe his later new 165 Fergie had a cigarette lighter.
"I saw the development of the tractor through all its stages," he said.
"There were still working horses on the farm when I started. There will never be the changes in the next 60 years on the farms that I have witnessed in my lifetime."
He added: "There's nothing like it. Working away on the hills spraying
thistles or ploughing the land – it's fantastic."
Jimmy married Maureen 53 years ago and they have a daughter.
"Maureen deserves this medal just as much as me," he said.
"She had to deal with me working all hours and then coming home covered in grass and muck."
Jimmy has restored a little red 1970 135 Fergie which he takes for drives out and about in Crieff.
On Saturday, he will enjoy centre stage as he collects his long service medal.
He said: "I feel so very proud to receive this medal. It represents a lifetime in a medal and it's a lifetime I wouldn't swap for anything."
jabuchan@thecourier.co.uk