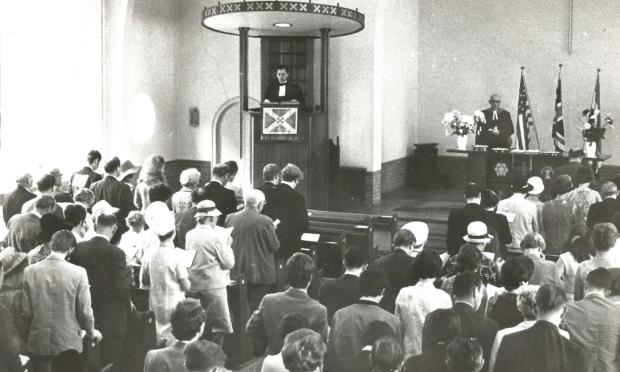 A former Perthshire minister is preparing to celebrate a milestone anniversary with his new congregation in Rotterdam.
The Scots International Church opened its doors in the Dutch city to provide a place of worship for the many Scottish soldiers, sailors and merchants working in the area.
This weekend, it will mark 375 years of faith and renewal, having been resurrected following its total destruction in the Second World War.
The church has strong connections to Perthshire which go back hundreds of years. The first minister Alexander Petrie, came from Rhynd.
Rev Derek Lawson, who spent many years as minister of Redgorton and Stanley, near Perth, has been based at the church since he came out of retirement in 2016.
"We're celebrating the past, but also looking to the future," he said.
"We've changed dramatically. Originally we were primarily Scottish, but today we are about 30% British, 30% Dutch.
"Historically, we have had a lot of Americans and Canadians, but also people from Asia and Africa."
Foundation stones were brought across from Scotland in 1695 to build the first church. It remained in used until the Second World War.
Mr Lawson said: "There was virtually no contact with Scotland during the war.
"After a bomb destroyed the building in 1940, there was a real risk it would not continue."
Through the efforts of the congregation and with financial backing from Rotterdam merchants, the church was rebuilt. It was dedicated by the then-Moderator Rt Rev Johnstone Jeffrey in 1952.
Rev John Russell, who is the Presbytery Clerk of Dunkeld and Meigle, was minister from 1963 to 1972. He will also be at Sunday's anniversary service, which will be led by current Moderator, Rt Rev Susan Brown.
"We loved our time here," he said. "The manse was our first home. We arrived on a cold winter's night to a warm welcome, 13 days after marriage.
"When I was appointed in 1963, I was given the task to reach out to the large English-speaking population drawn from Britain, the Commonwealth and the United States and many other nationalities living throughout South Holland."
He said: "We're very pleased to be going back. It's very kind of the church to invite us.
"One of our sons who was born in the manse is coming back too."
Right Rev Susan Brown said: "Having family links with the Netherlands, it is wonderful to be able to celebrate with the congregation of the Scots International Church Rotterdam on this special anniversary.
"It is a congregation which, over the years, has continually reviewed and renewed its role and vision and as such offers vibrant testimony to the faith that undergirds all it does."
A total of 16 churches of Scotland are based overseas, spread across 13 countries.