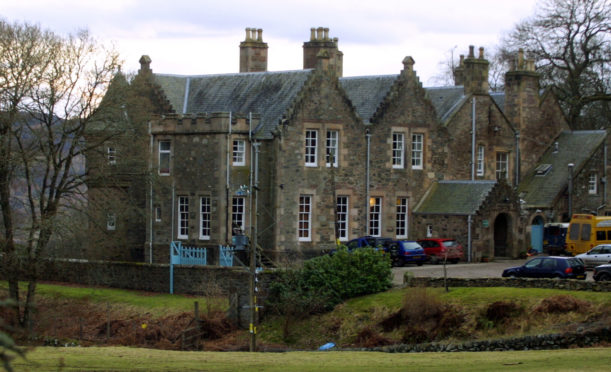 The head teacher of a Perthshire school for children with additional support needs was suspended from duty shortly before parents were told it was to close.
Parents whose youngsters go to the New School at Butterstone were "devastated" to discover on Monday that it was to close its doors on Friday and have set up a petition –  with more than 3000 signatures and counting –  in an attempt to save it.
It has now emerged that head teacher Bill Colley was suspended on Wednesday, November 7, after Education Scotland and the Care Inspectorate investigated a complaint that "raised significant concerns about how children are protected from harm."
Sources said Mr Colley's suspension was in response to "failing to report a very minor matter" and that the "bureaucratic nonsense" had left the school – which received a glowing report from the Care Inspectorate in 2017 – with no option but to close.
Parents said the decision by the board of governors means the 24 pupils – who have a range of complicated needs including autism, ADHD and Tourette's syndrome – have been left with "nowhere to go."
---
---
Inspectors received a complaint earlier this month regarding leadership at the school and its ability to follow child protection policies and procedures.
The Care Inspectorate issued the school with an improvement notice on Friday, November 9, but a spokesperson said inspectors were satisfied that immediate concerns had been dealt with and "there was sufficient support to improve practice at the school."
Susan Briggs, 40, from Stanley, said her 14-year-old-son had failed to thrive prior to joining the Dunkeld school.
She said: "That school has done wonders. They have managed to turn my son's life around. They worked with him and they worked with him. They built it up slowly. He was coming on educationally and socially and now that has all been taken away. Now I don't know what's going on and that's not fair on the children."
Lee Archibald, 37, from Dundee, said her 13-year-old son had been going to the school since July.
"I am utterly devastated. I have cried the whole night through. My son can't read or write, but he had just managed to get through a simple paragraph.
"The parents are angry. For some of these kids, there is no local alternative for them to go to. It has been suggested that my child go back to mainstream but he is unfit to go back to that.
"I don't know what we're going to do. I have just heard back from one alternative school and they have told me that there's nothing they can do. They're not taking any more day pupils. "
In a joint statement, a spokesperson from the Care Inspectorate and Education Scotland said they had investigated a complaint, had issued a notice to improve, but had been satisfied the correct steps were being taken at the school.
He said: "The Board of the School have now informed us that their decision is to close the school from Friday, 23 November.
"The urgent priority must be to ensure the safety and wellbeing of the children and young people currently attending the school.
"The local authorities, together with Education Scotland and the Care Inspectorate, are working closely to ensure that there are appropriate and carefully considered plans for each of the young people at the school."
Sir Andrew Cubie, chairman of the school's board of governors, said the school was left with no option but to close as it did not "have the funding or resourcing to meet the improvements and actions within the timeframe required by statutory bodies."
"The board and management team have always been conscious of, and prioritised, our obligations in relation to pupils' safety and have always worked closely with regulatory bodies to ensure this," he said.
"Our focus on, and success in, providing a safe and nurturing environment is clearly evidenced by the feedback and commentary from parents of pupils at our school and the successes of our pupils."
He said he would not comment on Mr Colley's suspension as it was an internal staffing matter.
A spokeswoman for Perth and Kinross council said its focus was on supporting the school's 13 local pupils.
"We have contacted all the families concerned and will be working with parents and pupils to review their individual needs and understand the best alternative option for them," she added.
Mr Colley declined to comment.