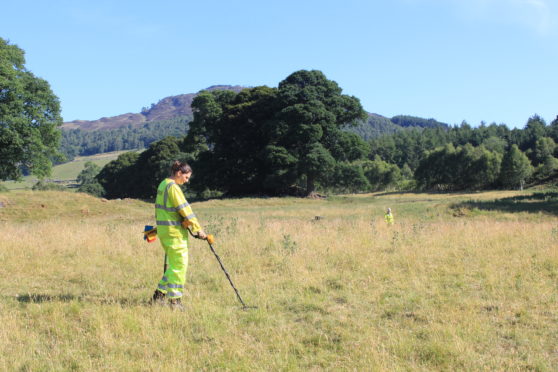 The controversial expansion of the A9 through the site of the Battle of Killiecrankie has moved a step closer.
Bosses at the Cairngorms National Park Authority (CNPA) are preparing to drop their objection to the dualling work on the site of the battle between Killiecrankie and Glen Garry.
Campaigners claim the expanded road will destroy the site of the 1689 battle, fought during the first Jacobite uprising.
Park officials had objected to the enlarged section of road in Highland Perthshire – one of 12 upgrades as the A9 is reshaped into a full dual carriageway – citing a lack of information about the road's effect on the battlefield.
But the park's governing body is expected to officially withdraw its objection at a meeting in Aviemore on Friday February 22.
The body's move follows that of Scottish Government agency Historic Environment Scotland, who dropped most of their objections at the end of January.
Gavin Miles, head of planning and communities at the Cairngorms National Park Authority, said the body welcomed the significant gains dualling of the A9 will bring to the economy of the national park.
He said: "We are working with Transport Scotland, communities along the route and other partners to ensure that the new road has a minimal adverse impact on the special qualities of the national park – including historic landscapes as in the case of the section of road which passes Killiecrankie.
"The Park Authority had submitted an objection to the route but alterations have now been made – and to the satisfaction of Historic Environment Scotland – so we feel we are in a position to withdraw that objection."
Ann Macsween, head of Casework at HES, said further archaeological work had been done on the site since its initial objection.
"We have concluded that although the impact of the proposal remains significant, they no longer raise historic environment issues in the national interest such that they warrant an objection from HES."
Transport Scotland has modified the design to address the 183 objections received to date.
George MacLean, from campaign group KilliecrAnkie 1689, said they were still unhappy with the modified plans.
"This design will be an ugly and noisy route over a historic site at the gateway to a national park. CNPA must take a closer look at this."
The Battle of Killiecrankie is regarded as the first battle in the Jacobite wars that culminated with the battle of Culloden in 1746.