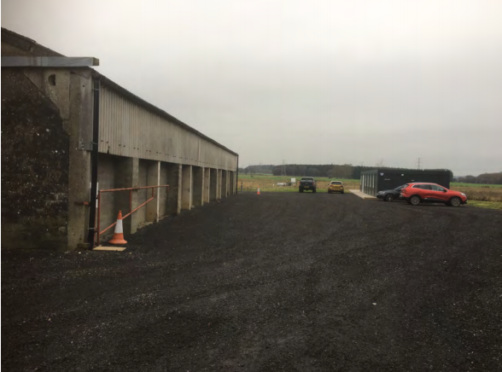 It is feared a drugs hotspot will return to the Carse if a local business is forced to move.
The land just off the A90 in Errol, next to the prominent Mackie's crisp factory was previously a popular meeting point for drug dealers and users, with needles scattered across the site.
In recent years The Steadings has been occupied by Paragon Protection Systems (PPS), which manufactures shelters, but Perth and Kinross Council has refused retrospective planning permission for the company's building.
It is now feared the drug dealers will return to the site if the business, which moved from Inveralmond two years ago, is ordered to leave.
Landowners Munro Estates appealed the council's planning refusal but the decision was upheld by the authority's local review body last week, despite bosses from both Mackies and PPS raising concerns about the drug problem.
A letter of support written by Mackie's at Taypack's managing director, George Taylor, said the site had been transformed under PPs owner Craig Michel.
"When we first moved here in 2013, The Steadings were in a terrible state of repair and it was a well-known fact that the site was used as a meeting point for some very undesirable people from both Perth and Dundee who met on a regular basis to buy and sell drugs," he said.
"The site used to be littered with needles, etc before Craig took it on and cleaned it up. No one in the area wants to see this site go back into the disrepair it once was in."
But last week the local review body upheld the decision to refuse retrospective planning permission for a change of use from an agricultural contractors to storage and distribution, as the land is earmarked for agricultural use in the council's local development plan.
Owner Mr Michel said the site was previously notorious for drug deals due to its prime location between Perth and Dundee.
He plans to lodge a new planning appeal as previous objections in relation to traffic and noise have been addressed.
He said: "The fact is before the site was occupied it was a building which hadn't been used for agriculture for the last 10 years.
"It had been empty for a considerable amount of time and was totally overgrown.
"Because of its proximity to the A90, while still being isolated and hidden away, it was used as a meeting point for drug dealers. They would come out from Dundee and meet people from Perth and elsewhere. When we moved in we found all sorts of drug debris lying around.
"We can stay put while we lodge a new application which gives us a stay of execution but it's frustrating for a small business."
Perth and Kinross Council did not respond to a request for comment.