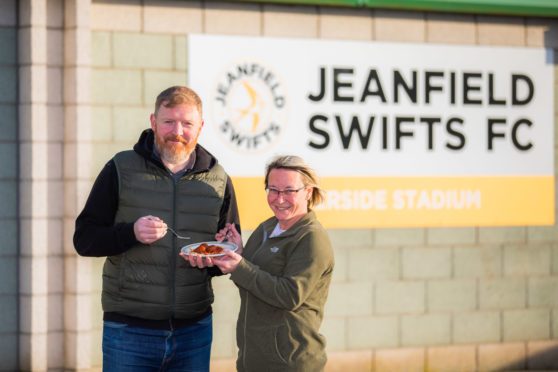 A community football club provided hot meals to children in Perth over the Christmas holidays.
Jeanfield Swifts Community Football Club set up its lunch club to allow children to socialise through the sport and have a meal.
The club served food to all children between the ages of five and 14 who went to its Riverside Stadium ground on December 30, 31 and January 3.
It was free of charge to attend.
Chairman of the Jeanfield Swifts, Steven Antoniewicz spoke of the importance of the lunch clubs for children in the area and their families.
He said: "It has provided some activities and a hot meal for kids who may have free school lunches.
"We had an open door policy for kids between five and 14.
"There are a lot of people who come along who are not interested in football but come for the food and to socialise."
Mr Antoniewicz estimated there was around 30 to 50 families who benefited from the club's lunch club over the holidays.
The lunch club was also open to parents who wished to accompany their children for tea and coffee.
Children were also encouraged to bring a friend to the group in order to have "twice the fun".
The festive lunches follow the success of clubs held by the Swifts during the summer and October holidays and members say they want them to become regular events to provide children in the area with a place to go when schools are closed.
Mr Antoniewicz said: "There are not a lot of places to go apart from school and home for a lot of kids."
"It has been really well received by the kids and their families."
The lunch clubs held by the football club over the holidays were funded by Perth and Kinross Council.
The club said it would not have been possible to run them without the funding it had received.
A Perth and Kinross Council spokesperson said: "The Council is continuing to support a number of community projects to help children, young people and their families where particular circumstances can lead to food insecurity during holiday periods, of which the Jeanfield Swifts initiative is an example."
Mr Antoniewicz added that the lunch clubs are a "part of a wider plan to support the local community."
Dates for the next school holiday lunch clubs at Jeanfield Swifts are yet to be confirmed.