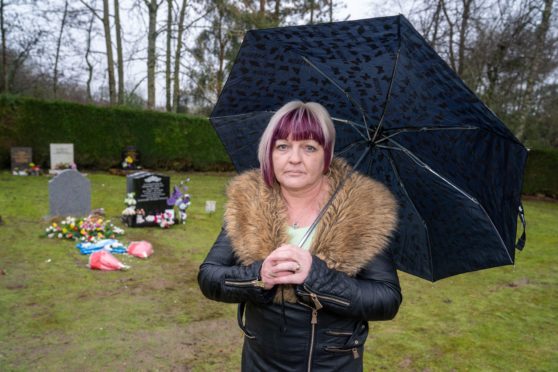 A Perthshire woman has expressed her anger after her mother's grave was left covered in soil from a newly dug up adjacent plot.
Julie Horne of Coupar Angus was shocked to find the soil when she went to visit the grave of her mother, Margaret McAllan, at the Grampian View graveyard, early last week.
She said: "I went down to visit my mum's grave which I do two to three times a week as I'm struggling after losing my mum.
"I feel a bit closer to her when I visit the gravestone.
"I could not believe my eyes when I saw this big box full of earth which was on top of my mums grave, just missing the gravestone.
"I was really upset at seeing this, some of the flowers were moved and were lying on the ground behind the box.
"All the family make sure our mum is looking really nice all the time.
"To see that big box full of earth on top of my mums grave is so disrespectful, no thought for anyone."
After discovering the soil on her mother's grave, around a year after her death, Ms Horne contacted Perth and Kinross Council but says she was told there was nothing they could do.
She said: "I phoned the council and was told that there is a policy.
"Basically they could not do anything about it.
"I understand when someone else is to be buried, they will always have a box of earth from the hole that has been dug.
"But certainly don't put it on top of someone's grave.
"There was plenty of room to put it elsewhere.
"I am highlighting this as for not to happen to anyone else.
"Our family are very upset over this."
The council since apologised and said there was no intention to cause any distress.
A spokesperson said: "We would apologise for any distress that may have arisen in this instance and would stress there was no intention to cause this.
"As we have explained to the person concerned, it is, however, standard industry practice for any soil excavated from a burial plot to be put into a container placed immediately adjacent to the excavated plot.
"Where this container is placed in relation to the plot depends on a number of factors including ground conditions, health and safety, and access for mourners.
"Following the burial, the container of soil will be removed and any marks on adjacent ground will be repaired."