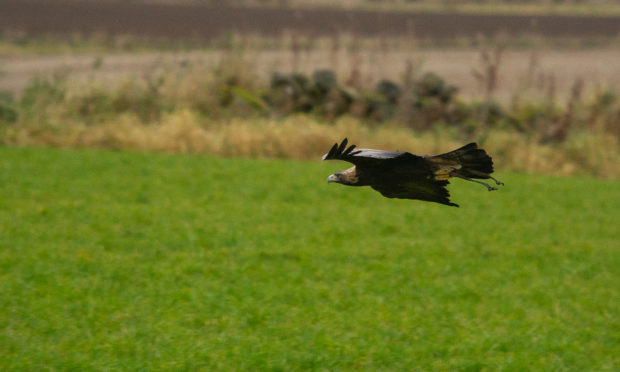 Scotland's leading conservation charity has hit back at a Perthshire-based field sports group's call for independent monitoring of the tags fitted to birds of prey.
The RSPB Scotland insisted the technology was highly reiable and accused the Tayside and Central Scotland Moorland Group of trying to pre-empt a forthcoming Holyrood debate on the issue.
It comes after the group said it wanted the tracking of tagged raptors to be handled independently  in the hope its members wouldn't be suspected immediately very time a  bird's signal goes missing over the land they manage for shooting.
The call was made after The Courier revealed another golden eagle had disappeared from trackers near Loch Tay this week.
The Scottish Gamekeepers' Association has lodged a petition with the Scottish Government to prevent campaign groups from releasing the information found when the tags they fit stop transmitting data.
This has been publicly backed by the moorland group.
RSPB Scotland head of investigations Ian Thomson said: "It is little surprise that representatives of the game bird shooting industry are again complaining about satellite tags fitted to birds of prey.
"For a number of years, this highly reliable technology, strictly regulated and used all over the world, has shone a very bright light on the appalling level of raptor persecution occurring in Scotland, almost exclusively on grouse moors.
"The increasing evidence base for this includes Scottish Government-commissioned and other peer-reviewed research."
Mr Thomson has said his charity would also be putting forward evidence to Holyrood.
"We are surprised that there now seems to be a desire by land managers to preempt Scottish Parliament discussion of satellite tagging prompted by the lodging last year of a petition by the Scottish Gamekeepers' Association," he said.
"We look forward to contributing evidence to parliament when that petition is scrutinised and suggest that the industry does likewise, rather than continuing to issue misleading or erroneous statements to the media."
A spokesperson for the Tayside and Central Scotland Moorland Group said: "We recognise that satellite tags are widely used and setting aside our concerns over the welfare of the bird in question and the efficacy of the tags they provide valuable scientific data about the movement, well-being and behaviour of raptors.
All we are suggesting is that there should be greater transparency, so that all interested parties including estates, gamekeepers, conservation charities, police and government, are able to access the information in real time.
"We don't feel that this is an unreasonable request in this day and age."