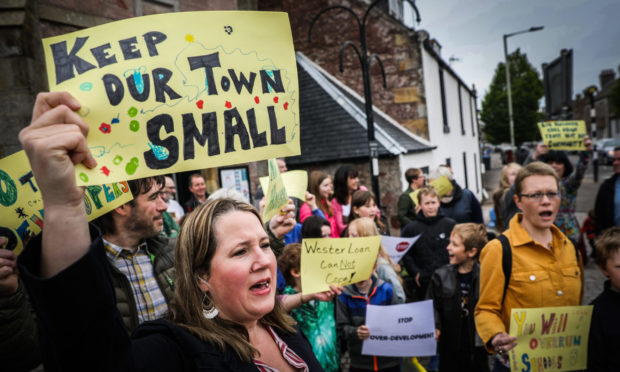 Angry residents have slammed a decision to allow a controversial housing scheme despite scores of objections and an initial council rejection.
Campaigners have described the findings allowing Springfield Properties to build its 67-home development at Pitdownies, Milnathort, as "bitterly disappointing" after the proposal was unanimously rejected by councillors in February.
Plans for the Kinross-shire project received more than 160 objections from the local community and were also recommended for refusal by council planning officers.
Springfield Properties appealed to the Scottish Government Reporter in May and the body has declared it is minded to grant planning permission despite ongoing concerns about GP facilities in the area and the effects of construction on the water quality at Loch Leven.
Controversial Milnathort housing development set for refusal after community backlash
Kevin Heneghan, of Pitdownies Action Group, believes the Reporter was dismissive of local concerns.
He said: "The Scottish Government Reporter's decision to enable the Pitdownies development to go ahead is bitterly disappointing.
"The Reporter ignored the grave concerns residents have regarding the huge increase in traffic the development will bring in and around the village.
"He was also dismissive of the evidence around the strain on local infrastructure and the negative impact on Loch Leven, which is a Site for Special Scientific Interest (SSSI), a National Nature Reserve (NNR), and a Special Protected Area (SPA).
"Perth and Kinross councillors unanimously rejected the application only for the Reporter to sweep away the evidence that demonstrated this development should not have gone ahead.
"We accept that some housing development has to take place, but not on this scale and at this rate."
Kinross-shire residents fearful as '10 years' of developments set to happen at once
Despite the protests against the development, David Buylla, the Reporter appointed by the Scottish Ministers, said he was minded to allow the appeal and grant planning permission.
My Buylla said: "There has been a high level of public opposition to this proposal.
"Much of the concern is with the principle of developing this site and/or of building any more homes in Milnathort.
"While I have taken those concerns into account, I am conscious that, through
the Local Development Plan, the council has already resolved that further housing in the settlement should be encouraged and that this is an appropriate site for that to take place.
Surface of Perthshire loch turns blue as toxic algae, harmful to humans and animals, appears
"I agree with the council's conclusions on those questions of principle, but even if I didn't, I could not remove this site's allocation for housing development, as appears to be the outcome sought by a number of objectors."
Addressing the concerns over Loch Leven, Mr Buyalla noted: "The appellant has confirmed with Scottish Water that the Milnathort wastewater treatment works has capacity to accommodate this development.
"Therefore, I am satisfied that phosphorus discharge into Loch Leven is not a reason to withhold planning permission for this proposal."
A spokesperson for Perth and Kinross Council said: "We note the decision of the Reporter."