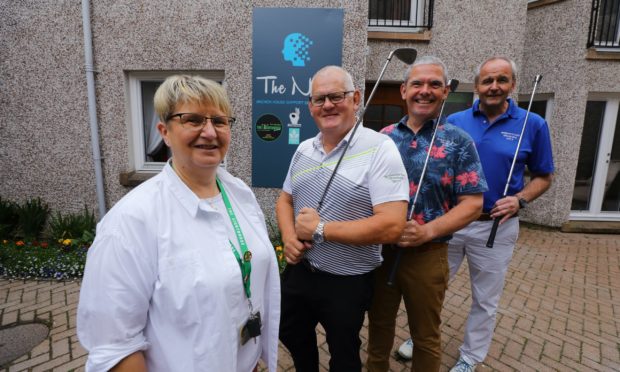 A Kinross father is donating the proceeds of a memorial golf tournament set up in memory of his son.
Jim Handyside urged people to talk as he made the gesture to The Lighthouse for Perth on the tenth annual outing of the tournament for his son Ross, who took his own life in April 2010.
He set up the fundraising tournament alongside his friends Andy Caldwell and Colin Henderson to remember Ross. They have raised more than £20,000 for different charities.
Mental health charities to open new flagship crisis centre in Perth as fears for vulnerable grow during lock down
Jim said: "We wanted to support mental health.
"They're making it accessible that you can come and talk to a familiar face and sometimes that face isn't mum or dad.
"I remember at Ross' funeral I stood up and said a bit and I had created a poem and it was called Listen Just Listen.
"I tried to get the message across that you have to listen and there was number of people who said afterwards that they went and phoned their sons and daughters.
"This is not just about fundraising, it's also about going away and talking about it as well.
"If there's 120 golfers there and they go and talk to two people each then that's 200 people talking (about mental health)."
The Ross Handyside Memorial Golf Tournament has been limited to 40 members this year due to covid-19 but Jim and his friends thought it was important to keep the competition going and hope to return even bigger next year.
They are also still looking for golf clubs or restaurants to put forward prizes they can auction off for charity after the outing and said anyone looking to donate can get in touch with The Lighthouse directly.
Sharon Thomas, manager for The Lighthouse for Perth, said that all fundraising was important for the charity.
The organisation has received an unprecedented number of users since the pandemic and Sharon believes they have only reached "the tip of the iceberg".
Sharon said: "Mental health is such a massive issue at present, particularly suicide within young males and the we are really grateful that they have chosen our charity to support, particularly as we continue to see an increased demand for our services."
The Ross Handyside Memorial Golf Tournament will be played at Drumoig Golf Course in Fife on August 14.