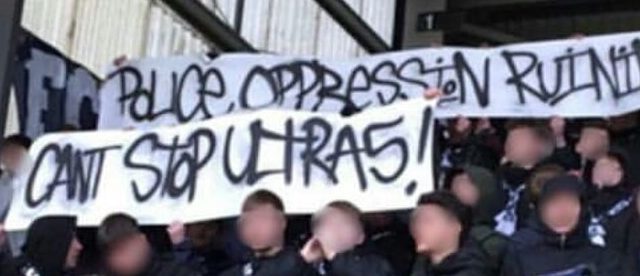 The "beating heart" of St Johnstone's support has not been banned from McDiarmid Park, the club has confirmed.
Rumours had swept social media this week that members of Fair City Unity (FCU) – an 'Ultra-style' set of supporters – were no longer wanted at the ground following clashes at away matches with fans of other clubs, including Dundee.
As a result, St Johnstone felt they had to respond and the club has now issued a statement confirming FCU are not banned and that they're welcome to wear their FCU colours, scarves and flags at matches.
However, Saints stress the youngsters will no longer have a designated area of seating at McDiarmid Park, following incidents of "poor behaviour" in Dundee, Motherwell and Hamilton.
St Johnstone praise the vocal support provided by FCU and reveal how a designated section of the East Stand at McDiarmid Park had previously been set aside to them. The Perth club also reveal how they "tolerated" minor damage to seating in this part of the ground.
The storage of drums, flags and banners at McDiarmid Park was facilitated by Saints. However, they feel aspects of anti-social behaviour, including incidents before and after a Hogmanay Tayside derby game with Dundee at Dens Park, must not be tolerated as they "tarnish" the good name of St Johnstone.
The statement says: "Whilst the output of the group at games within McDiarmid Park has undoubtedly been largely positive it has been achieved against a background of various levels of unacceptable conduct from a significant number of its members within the footprint of the McDiarmid Park site before and after matches, other areas of Perth and at various locations where Saints were playing away games.
"Such conduct included fighting with opposition support and unruly behaviour in public streets and on public transport. The club reiterated its support of and willingness to help FCU at a meeting following the incidents in Dundee, but at the same time they were warned that poor aspects of their activities couldn't be ignored."
"Following issues at Motherwell in March and more significantly at various locations in Hamilton last Saturday, the closure of the designated area has now been invoked – nothing more, nothing less."
St Johnstone describe this decision as "hugely disappointing" and say they sympathise with some FCU members who have done nothing other than offer "great support" to the team.
"The club hopes that FCU will continue to vocally back the team but it can't be seen to continue to endorse a group whose membership includes a significant number of troublemakers," the statement adds.
"It is entirely comfortable with its decision to close the FCU section for the immediate future to help address the growing concern expressed to the club by other St Johnstone supporters about the increasing evidence of poor behaviour affecting the club and its ordinary fans, particularly at away games."
Saints fans have given the decision a mixed reaction with many supporters describing the club as "boring" and one supporter, Craig McKechnie, referring to FCU as the "beating heart" of the club.
Another fan, Jeff Ogle, posted on Facebook: "I've only been to one match since moving here last month from America but along with the game, the FCU made it an experience."
And Jordie Stevenson added: "Seems anybody who's high up in the club take a bitter dislike to the FCU since the style of the group doesn't run strictly with the club image. Think it's time we got away from the times of tartan blankets and 'sit down yer in my road.'
"The kids want Ultra."
No one from FCU was available for comment.