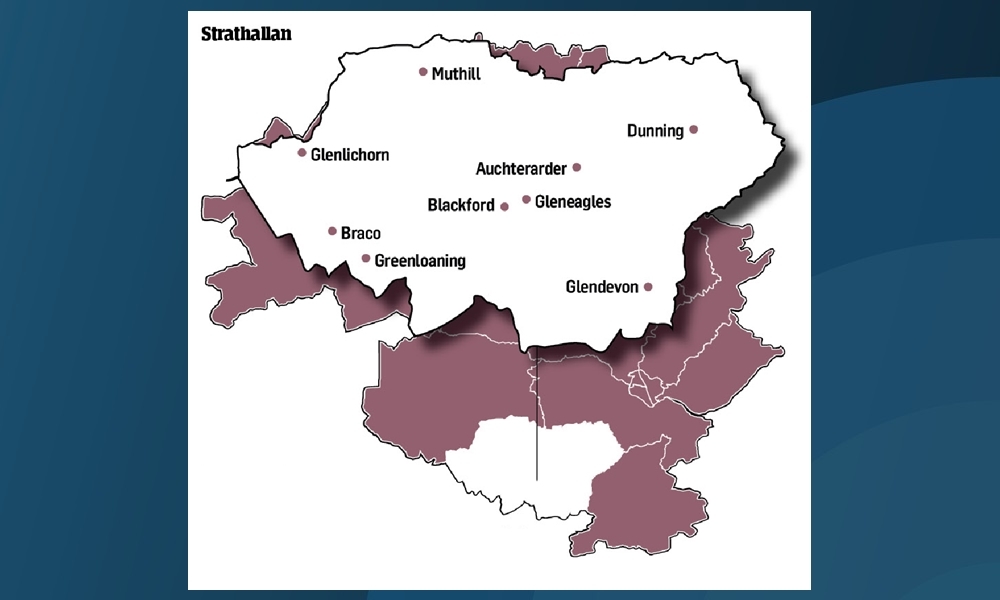 Tourism is a major employer in the Strathallan ward, with none bigger than the world-famous Gleneagles Hotel.
It looks set to become an even more important economic asset to the area as they have revealed plans to develop a luxury camp and leisure destination on nearby land with holiday lodges and tepees, as well as a spa, bars, restaurants and retail outlets.
Other major employers are Highland Spring Ltd, Stewart Milne Group, Harold M. Corrigall (Leadkelty Farm) and Duradiamond Healthcare Ltd.
The main settlement in the ward is the town of Auchterarder which accounts for 45% of the 10,400 population.
It enjoys being in close proximity to Gleneagles and the many employment opportunities it affords for local people.
Shops in Auchterarder rarely stay empty for long and many businesses serve the needs of guests at the hotel.
The hotel famously hosted the G8 summit of world leaders in 2005 and more recently one of the world's greatest sporting events, the Ryder Cup.
Situated in the south western part of Perth and Kinross, geographically the area is a mix of both hills and farmland. A number of rivers cross the land through the ward including the Allan water.
The main route through the area is the A9 with the majority of settlements along the main road except the historic village of Dunning.
The other main settlements are Muthill, Braco and Blackford.
The ward also contains some of the most expensive residential properties in the whole of Perth and Kinross in the vicinity of Gleneagles.
---
Candidate profiles
The Courier invited each candidate to submit a short introduction to themselves and, if they wished, a video explaining why they deserve your vote.
Fhinan Beyts (Labour)
Scottish Labour candidate Fhinan Beyts has lived in Aberuthven for more than a decade.
"This is an area I care deeply about," he said.
"For the past six years, I was a pupil in the Community School of Auchterarder where I was heavily involved in community activities.
"As a result of my work on the school's charity committee, I have both fundraised and worked for the local food bank.
"In addition to being Perth and Kinross Labour Party youth officer, I am also the youngest Scottish Labour candidate in Perth and Kinross and hope to bring a fresh perspective to our council team."
Bruce Fummey (Green)
Former physics teacher and independent financial advisor Bruce Fummey is standing for the Scottish Green Party in the ward.
Born and brought up in Perth, Mr Fummey has carved a career in comedy in recent years and has helped to export Scottish humour around the world.
He recently performed at Burns Suppers in Europe, the Far East and Australasia and is a long-time fan of the Scottish bard.
Mr Fummey has won various awards in connection with his comedy career and was named Scottish Comedian of the Year 2014.
Ann Gaunt (Lib Dem)
Standing for the Liberal Democrats in the ward is Ann Gaunt, who has been a councillor 10 years.
She also has 30 years' experience volunteering with Perth Citizens' Advice Bureau and also serves on its management committee.
"That experience of helping local residents facing severe problems means I am uniquely placed to help constituents who are in crisis and need support," she said.
"As a self-employed architect I can bring my professional skills to represent the views of local residents on planning matters and improve the quality of planning decisions.
"I also know what it is like to run a business and that experience was invaluable during my time as vice-convener of enterprise and infrastructure with responsibility for economic development and business support.
"I have a strong record of local achievement and worked hard to secure the new access road to Gleneagles Station and to improve access for the disabled.
"Many local residents are angry about the dreadful state of our roads.  Under the SNP we have endured more and deeper potholes, repairs take longer and cost more.  We will work to turn that around."
Tom Gray (SNP)
SNP candidate and councillor Tom Gray has a lifelong association with Strathallan, farming on land which has been in his family since 1943.
After seven years in Edinburgh studying civil engineering and working in construction and town planning, he decided there was nowhere like Strathallan.
Married to Irene, they returned to the countryside, have three daughters and their families include six grandchildren.
Following the sudden and premature death of Councillor John Law in 2010, Mr Gray retained the seat for the SNP.  He has been a member of the enterprise and infrastructure and development management committees throughout and has convened the latter since 2012.
He attends the Auchterarder Town Bus Group, attends the Auchterarder Network when health and care service personnel meet at St Margaret's Hospital and attends the five community councils throughout Strathallan at every possible opportunity.
Mr Gray says he has "a great passion to see that those living in Strathallan can enjoy safe, comfortable and fulfilled lives, in particular our increasingly ageing population with their independence supported at home".
Murray Lyle (Conservative)
Murray Lyle says it has been "a privilege" to serve as the Scottish Conservative councillor in Strathallan for the past 10 years.
"I would like to thank everyone who has supported me," he said.
"Perth and Kinross Council is not just about spending money in Perth city — it has to share its budgets around its rural communities.
"If I am re-elected I will strive to get a fair share of the budget for Strathallan`s village communities. For example, hundreds of houses have been built in Auchterarder and still nothing has been done about the parking problems.
"Communities badly need new junctions on to the A9. These issues need to be addressed.
"Our rural villages need support from the council, they have to improve roads, education and health provision. Parks and village halls must again be maintained to a high standard.
"Improvements to local mobile phone and broadband connections are essential in the countryside. I will continue to lobby for improved coverage."
Mairi McDonald (SNP)
SNP candidate Mairi McDonald moved to Muthill 10 years ago.
A former pupil of Crieff High School, she studied at Aberdeen and Strathclyde universities and spent several years teaching in Lithuania and Poland before getting her first publishing job writing definitions for a dictionary.
She enjoys the varied nature of her work which can involve writing textbook material, testing software, or building a website. Lately she was part of a team working on curriculum development in Kazakhstan.
Freelancing demands the ability to work with different clients and an aptitude for finding creative solutions to problems, skills she feels are relevant to the role of councillor.
A member of Muthill Primary Parent Council, before that she was on the parent committee of the local pre-school where she used her publishing and digital knowledge to help raise the profile of the nursery and publicise fundraising.
She feels her family benefit from living in an area where community involvement is in evidence every day.
Throughout Strathallan, groups, trusts and committees are planning community-led projects and she is keen to ensure that these local groups continue to get the most out of their council.
Crawford Reid (Conservative)
After a career in medicine Crawford Reid is standing for the Conservatives in Strathallan.
"I graduated in medicine from Dundee University, completing my training in anaesthetics in Glasgow, Calgary in Canada, and Middlesbrough," he said.
"I recently retired as a consultant anaesthetist in Forth Valley, with over 36 years' experience of the NHS, on both sides of the border. I am continuing with sessional work in Tayside.
"I am married with two daughters, and three granddaughters.
"I have lived in Auchterarder for seven years and I am well aware, through personal experience, and talking to other residents, of the significant issues which are causing the Strathallan residents problems. The main issues I have identified locally, include pressure on roads, parking, shopping, health services and education.
"As a proud Scot, who plays the bagpipes, and represented Scottish universities at rugby, I am also aware that we are better served as part of a larger, stronger Union, and will oppose strongly any potential break-up of our country."
A past president of the Section of Anaesthesia of the Royal Society of Medicine he spent five years in the Royal Navy Reserve, attaining the rank of surgeon commander.
Ron Rose (independent)
Ron Rose, a Stirling University law graduate, is standing as an independent in the Strathallan ward.
He has been involved with various local community issues including the successful Missing Link campaign to improve public transport links for the communities of Braco, Greenloaning, Blackford and Auchterarder.
Local people were surveyed and with the findings the group were able to push for changes to bus services.
Mr Rose has also had an active involvement with the Perth and Kinross Tenants and Residents Federation.
He has also been involved in highlighting the problem of potholes and other road safety issues in the Braco and Greenloaning area.