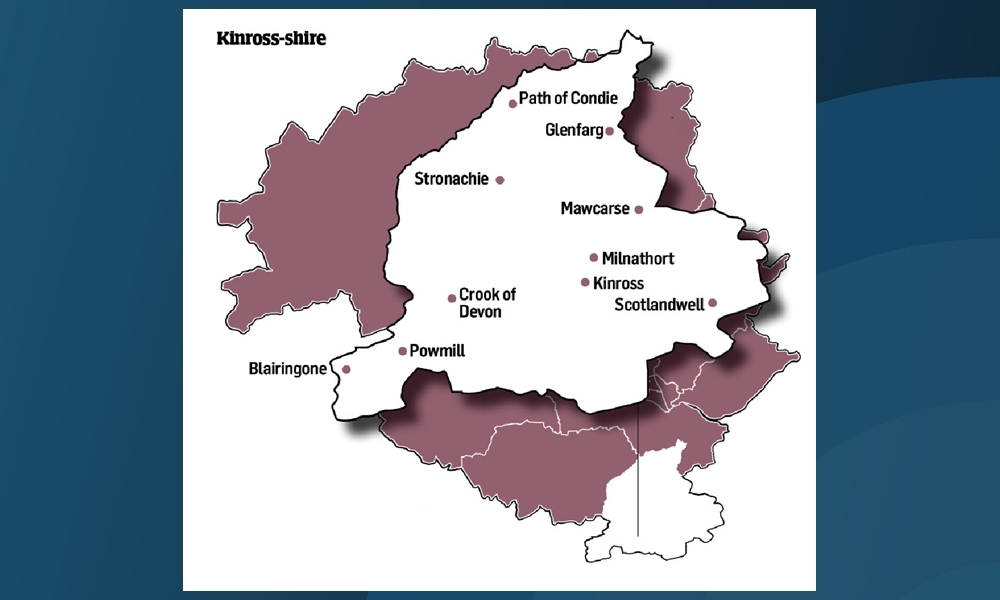 The Kinross-shire ward is known locally as the gateway to the highlands and at its heart lies Loch Leven, which is a major nature reserve.
Pressure for further house building is a major concern with a number of large projects in the vicinity of Kinross and Milnathort under way.
The ecology of the area and the loch is an important consideration for local residents when it comes to expansion.
A controversial proposal which is currently being consulted on with local people is for 80 holiday chalets and associated developments at Burleigh near the loch.
The ward stretches around 15 miles from west to east and ten miles from north to south and the main transport route is the M90 which runs the length of the ward.
The majority of the land within the Kinross-shire ward is arable farmland and agriculture is a large industry for the area.
For many years the T in the Park music festival was a major boost to the local economy but this was lost to the Strathallan estate after concerns about a gas pipeline under the site, though it is not to take place at all this year.
More than 40% of the 13,200-plus residents live in Kinross, while Milnathort, Glenfarg and Kinnesswood account for a further 20%, with the remainder rural.
The population is of a slightly younger profile that the Perth and Kinross average and as a result there is a slightly lower percentage of pensioners.
Major employers include the Green Hotel in Kinross, Kinross High School, Leven Glen Nursing Homes and Bellrock Construction (Scotland) Ltd.
---
Candidate profiles
The Courier invited each candidate to submit a short introduction to themselves and, if they wished, a video explaining why they deserve your vote.
Mike Barnacle (independent)
Independent candidate Mike Barnacle said it had been a "privilege" representing the people of Kinross-shire since 1999.
"I have significant experience in getting things done at the council," he said.  "I have held responsibility in the areas of environment and planning,  also serving on roads and transport.
"Working with local communities, together we can point to a long list of achievements, improved educational infrastructure, environmental and recreational facilities, along with traffic calming measures making our roads safer for all users. I have also helped hundreds of residents with problems and issues.
"I remain deeply concerned in the way the planning process works and am convinced that Kinross-shire needs a strong, well informed independent voice to protect its identity and interests up at Perth, one that will not be subject to the collective whip of a party position."
Dave Cuthbert (independent)
Elected in 2012 as an independent member for Kinross-shire,  Mr Cuthbert is a full-time councillor with a wide remit.
He sits on 14 committees and sub-committees, is leader of the group of independent councillors and convener of the council's audit committee.
Mr Cuthbert believes in consensus working and has worked closely with every other political party at the council. He thinks party politics is divisive and does not have a positive role to play at a council level.
He says his focus is on representing the interests of the Kinross-shire community, while trying to ensure that the council delivers the best possible services it can with the resources available to the whole council area.
Karen Grunwell (Green)
The Scottish Green Party candidate Karen Grunwell lives in Milnathort where she has been an active member of the community since moving there in 2008.
Currently studying for a PhD at Stirling University, she has been a member of the Scottish Green Party for more than six years and has become increasingly involved in a number of campaigns including working for the party last year as a campaign support officer assisting the successful drive to get Mark Ruskell elected to Holyrood for Mid Scotland and Fife.
She believes that it is important to have more Green councillors in local government to strengthen local democracy, promote debate about more sustainable communities and to protect local services.
David MacKenzie (Labour)
Scottish Labour candidate David MacKenzie described May 4 as "the most important election/referendum we have had in recent years".
"Perth and Kinross councillors take decisions that have a daily impact on our lives," he said. "They control and influence the education of our children, the care of our elderly, the number of houses built in our area, the state of our roads, the public transport that is provided.
"They have representation on our local health board so sway decisions on medical services. These are services that directly affect us all.
"Kinross-shire needs a Labour voice who will stand up for the people and who will fight on a daily basis to improve services not cut them.
"I have 34 years experience in education, with 20 years as a secondary school head teacher.
"Education is my passion and will be a major priority. I will ensure all children get the support they need to make the most of their time in school."
Callum Purves (Conservative)
Conservative candidate for Kinross-shire Callum Purves has lived in the area all his life.
"To the detriment of the outlying areas — particularly the historic county of Kinross-shire — Perth city continues to be the focus of the council's efforts and funds. If elected, I shall strive to be a strong voice for Kinross-shire's distinct priorities in Perth," he said.
"The recent budget – voted for by SNP, Labour and Independent councillors – put council tax up by a further 2% in addition to the already significant increases imposed on homes in bands E to H by the Scottish Government.
"Voters at this election face a clear choice: either the SNP council administration will return to power or the Conservative group will take control.
"By voting Conservative, not only will you get hard-working local councillors but you will also send a strong message to Nicola Sturgeon that we have had enough of her perpetual posturing over independence."
Willie Robertson (Lib Dem)
A current councillor, Mr Robertson was born on the Lanarkshire/Ayrshire border, son of a tenant farmer.
He has spent most of his life in Milnathort but has lived and worked in Edinburgh and the midlands of England.
Now retired, he owned and ran with his wife Christine an agricultural retail business based in Milnathort. He has represented Kinross-shire on the council since he was first elected in 1995.
Mr Robertson chairs the TRACKS committee (The Rural Access Committee of Kinross-shire) which has built paths and cycleways thoughout Kinross-shire. TRACKS created the award winning Loch Leven Heritage Trail, a £3.4 million multi-use track which was completed in spring of 2014.
"I have always thought my task as a councillor is to use any influence I have to improve the quality of life of those I represent," he said.
"Good education, housing, sport and leisure facilities are very important. I try to deal with constituent queries quickly and work hard for a satisfactory resolution."
John Ross (Conservative)
Conservative candidate John Ross says he is "committed to making a difference and improving the services we get in Kinross-shire".
"Over the past few years, like many people, I have been frustrated and surprised by some of the council decisions regarding Kinross-shire," he said.
"I have had many conversations with local business people about the way things are done and the Perth-centric focus to service provision.
"I have heard local farmers concerns about rural issues and I have seen sport and recreation side-lined at a time when we all know we should be more active.
"I pride myself as someone that can get things done. I have extensive knowledge of business planning, negotiating and management, and I am known as someone who can make things happen.
"I believe we need new ideas and positive action to really build up Kinross-shire and I would work hard to carry this out for our community."
Richard Watters (SNP)
SNP candidate Mr Watters and his family reside locally in Kinross and can often be found walking or cycling around the loch.
He studied geomatics (surveying and mapping) at Newcastle University before commencing his career as an IT project manager and developer.
He worked on 'specialist mapping' projects with large utility companies, central government, local councils, and other public bodies within Scotland.
Through his experience as an external consultant and as an employee of local authorities, Mr Watters says he has gained valuable insight into how local councils work and is  ready for the challenges and responsibilities if elected.
"If elected, I look forward to working hard as your local councillor, building a stronger Kinross-shire with even greater prosperity and opportunity for all," he said.