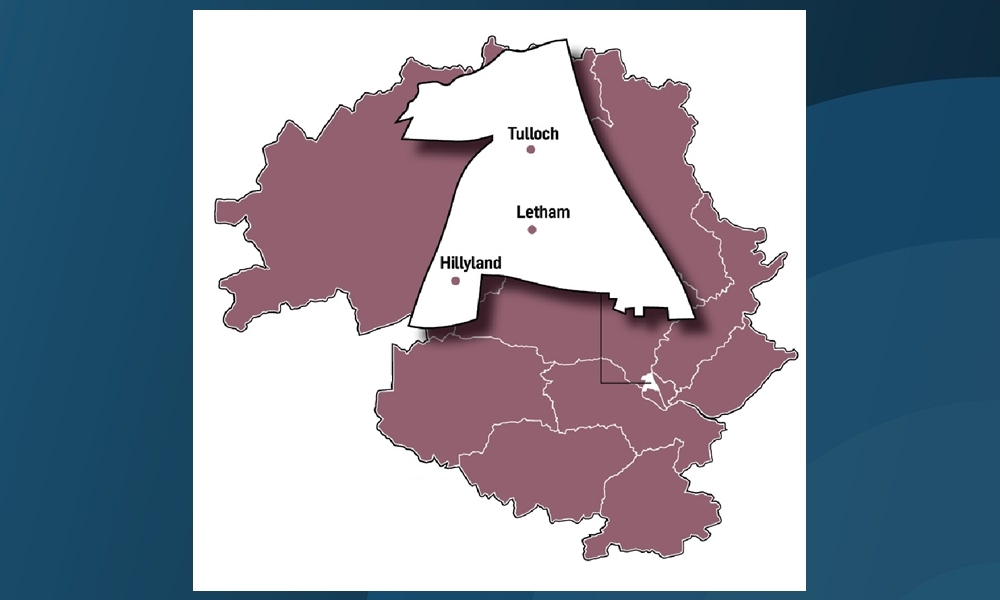 The Perth City North ward is densely populated taking in the neighbourhoods of Letham, Tulloch, Double Dykes and Fairfield.
According to the latest available figures, it has a total population of over 17,000.
The ward has the largest population of the three city wards and accounts for around 36% of the city's population.
The areas of the ward which are closer to the town centre mainly contain residential housing and the northern section of the ward contains industrial units.
The biggest current area of change is around Perth Crematorium where a new access is being created and a road linking to the A9/A85 junction improvement and link road to Bertha Park is under construction.
The project has not been without controversies – most recently an outcry over the felling of 500 trees near the crematorium – but the work is seen as vital to opening up land beyond the A9 for future housing  and industrial development.
The ward is also home to McDiarmid Park,  St Johnstone FC's ground.
Among the largest employers located within the ward are Scottish and Southern Energy plc, the Crieff  Road Tesco and Sidey Ltd.
Perth College UHI also lies within the ward providing courses for students from around the world.
Recently the ambitious multi-million pound Academy of Sport and Wellbeing was opened within the grounds of the college.
While of benefit to all students on the campus, it is hoped that the £6 million project will also become a launchpad for the next generation of Scotland's top athletes.
Since the last election the number of councillors for the ward has been cut from four to three.
---
Candidate profiles
The Courier invited each candidate to submit a short introduction to themselves and, if they wished, a video explaining why they deserve your vote.
Phil Brown (Lib Dem)
Liberal Democrat candidate Phil Brown said while there were plans to spend millions of pounds on lighting up city centre buildings other areas of Perth were being "neglected".
"The council's priorities need to change," he said. " It should prioritise clearing graffiti and dog mess from residential areas and make Perth a better place to live for locals.
"I am the chairman of a local charity, Perth Toy Library, and have boosted the income of the charity over the last  three years and recently completed a project to create a sensory room. I am passionate about improving the provision of services for local children.
"We need more affordable housing for local families and we also need to invest in education and update the ageing schools in Perth and Kinross.
"We also need to turn round the dreadful state of our roads. Under the SNP we have endured more and deeper pot-holes which take too long to repair.
"I am against another SNP referendum on independence which will be divisive. "The worst result for the local economy and jobs would be Scotland out of both the EU and UK."
Harry Coates (Conservative)
Conservative candidate Harry Coates says he would work to promote Perth as a place to do business.
"I live on the western edge and run a business in Perth city centre," he said.
"Perth is a growing and vibrant place to do both. I believe passionately that our city is becoming one of the most attractive locations for business in Scotland.
"The central situation of our city is suitable and convenient for many enterprises and, if elected, I will do all I can to help attract new business to the area, and the jobs that go along with them.
"Lots of people have concerns about empty shop fronts in the city centre. It is a problem for all city and town centres across the UK. If elected I will work to help find solutions to this ongoing issue.
"Locally, I will work to help ensure that facilities and services are equally available and provided, in line with available funds, throughout Perth City North, as well as seeking to deal with other issues in the ward, such as parking and problems with the Lade."
Dave Doogan (SNP)
SNP candidate Dave Doogan has represented Perth City North since 2012.
"During this time I have worked constructively with council officials and fellow councillors to realise the SNP's ambitious plans for Perth City North and every community within the ward," he said.
"I was born and raised in Perth and live here with my wife and two children. I am an aircraft engineer and worked for nearly 20 years for the Ministry of Defence. Following redundancy in 2007, I worked nights as a taxi driver while putting myself through university, graduating in 2011.
"As a senior councillor within the council administration, I have responsibility for housing and adult social care. When not working in the council, or within our communities, I am also a self-employed landscape gardener.
"Since being elected, I have maintained my guiding principle; that I am at all times the community's representative on the council and not the council's representative in the community, which is vital to being an effective local councillor."
Sam Finlayson (independent)
Independent candidate Sam Finlayson says: "My priorities will be the priorities of the people of Letham and Tulloch.
"I live in the ward with my family, my youngest child goes to school in the ward and the other two are old enough to attend local secondary schools.
"I struggle with the same problems that many of the parents in the ward face, be it keeping the kids active at the weekend or accessing the child health services when they are most needed.
"Many of the local provisions in our ward could be improved with a little common sense — little things like ensuring that when the icy weather comes the elderly residents' paths and our children's routes to schools take priority.
"That we are providing safe play spaces for our children during the school holidays, ensuring there is a level of affordable childcare available to parents both during the holidays and after school.
"Making investment into local clubs a priority ensuring we are supporting new clubs with either incentives or help to fundraise."
Arthur Frater (independent)
Standing as an independent in Perth City North is Arthur Frater, who describes himself as "your local candidate".
"Have you had enough?" he says. "If the answer is yes then it's time for a change. Vote for me – a voice for you.
"Vote for me and together we can fight for Perth."
Mr Frater has already been involved in highlighting local issues such as when rubbish left within the block where he lives in Perth was set alight.
Along with other families he was evacuated from his flat.
Mr Frater would campaign for more affordable housing and says he would be "a voice for carers, a voice for disabled people".
Callum Gillies (Labour Party)
Labour candidate Callum Gillies is a councillor in the ward.
"I have had the honour of representing Ward 11 North Perth for a number of years and look to count on your support of the local people of to do so again," he said.
"As an elected member I have attended all local forums and look forward to continuing support for our school parent councils and resident groups. I have always dealt with calls for assistance promptly and promise to continue to do so.
"I will continue to campaign for and support the safe routes for the school children of our area. I have been closely involved with the upgrade of Letham Neighbourhood Centre and Hub.
"I will continue to work on behalf of residents to improve the council housing stock and for further environmental upgrades in Letham and Tulloch."
Elspeth Maclachlan (independent)
Standing as an independent, Elspeth Maclachlan has a lifetime of links with her home city.
"Born in the PRI I spent my first few years in a pre-fab in Primrose Crescent before they were torn down, and my family moved to Dunsinane Drive where I still live," she said.
"I attended Caledonian Road School then Perth Academy. I gave up being a school librarian to become a carer for my late mother.  I have had several jobs in Perth including working for Aviva at Pitheavlis.
"I have enjoyed my ten  years as a councillor for Perth City North and am committed to working for the local communities.
"I am particularly interested in promoting opportunities for children and young people.  Child safety is important to me and I arranged for traffic surveys to be done to get improved road safety at the crossing to the Wallace Crescent play area.
"I have recently campaigned to get the stone paths in Perth Crematorium gardens replaced by paths that would allow wheelchair access to the gardens of remembrance.
"I am very interested in the regeneration of Perth Lade and have written to Perth and Kinross Council asking that the 30 year Lade Management  Plan be updated."
John Rebbeck (SNP)
SNP candidate John Rebbeck says: "If elected, you can count on me to be a determined and resilient voice for our communities, particularly on the issue of the rejuvenation of our towns and city centre.
"As a self-employed retail sales agent, I work with small retailers all across the east of Scotland and, if elected, I would bring my many years of experience to bear on economic development policy.
"My wife and I have lived in Perth's western edge and Letham areas for almost 30 years.
"My wife was born and brought up in Letham and our two boys attend local schools. I have a very close affinity with Letham and the wider communities in the ward and believe very strongly in the benefits of strong positive communities.
"It has been my privilege to serve for seven years as chairperson of the parent council of my children's local primary school in Letham."
He also coaches youth football at Letham Community Sports Club which brings him into contact with local families and their concerns.