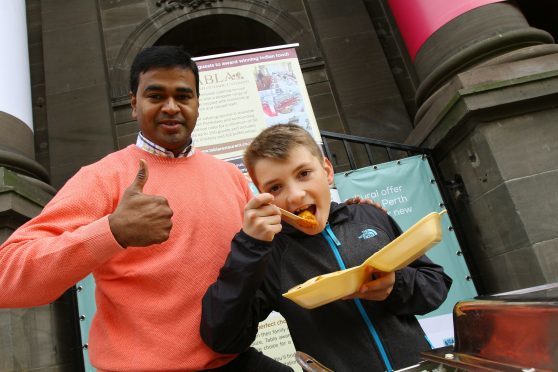 A big-hearted restaurant owner took to the streets of Perth to feed the homeless and raise money for the city's hard-pressed foodbank.
Award-winning chef Praveen Kumar set up stall outside the city hall to offer sustenance to passers-by to mark World Food Day.
Members of Perth's homeless population were among his first customers but other residents and visitors were soon warming themselves with one of his curries after making a donation.
Praveen, who owns the Tabla Restaurant and the Indian Cook School, was joined by his family for the initiative.
He is considering making the pop-up eatery a regular occurrence and hopes other city restaurateurs will follow his lead.
His efforts have been backed by SNP politicians Pete Wishart and John Swinney, who said the gesture raised important questions about how the country provides for the needy.
Praveen said: "We all have a lot to think about on World Food Day. Every day much of the world goes hungry.
"We don't have to look that far to see it though as many people in this country do not have enough to eat.
"Many people on our local streets are hungry and homeless. Perth has its own problems.
"I'd love more restaurants to join in and make a similar gesture. It's important that we support the less fortunate in our society and this is just a small thing to do."
Perth and North Perthshire SNP MP Pete Wishart said: "This is a brilliant act of kindness from Perth restaurant owner Praveen Kumar.
"Not only will it provide homeless people with a nutritious hot meal but it will also help to highlight that homelessness is not only a problem which exists in big cities or in other countries, but that it is a very real problem everywhere which needs to be remedied."
Deputy First Minister and Cabinet Secretary for Education and Skills John Swinney MSP added: "This is a wonderful gesture of Praveen and I commend his selfless action to help people in Perth who are going hungry.
"World Food Day is an important event designed to raise awareness of the United Nations' goal of Zero Hunger by 2030.
"Too many people go hungry every single day.
"The Independent Working Group on Food Poverty last year identified a number of recommendations to help end hunger in Scotland and the Scottish Government is considering the measurement of food insecurity in Scotland."
The Food and Agriculture Organisation (of the United Nations) celebrates World Food Day each year to commemorate the founding of the organisation in 1945.
Events are organised in more than 150 countries across the world, making it one of the most celebrated days of the UN calendar.