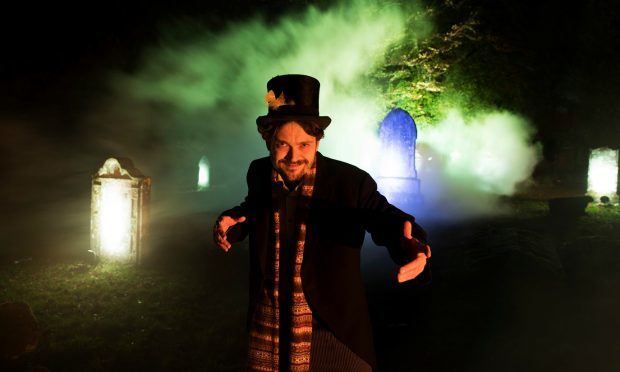 Real-life horror tales from bygone Perthshire have been brought to life for a Halloween spectacular.
Scone Palace has launched a spine-tingling special effects show, offering visitors an illuminated night-time tour of its grounds, complete with "graveyard" and ghoulish maze.
Spirits of Scone follows the success of last year's event, launched with the help of the creative team behind Pitlochry's Enchanted Forest, which attracted 3,000 visitors.
Stephen Brannigan, head of house opening at the palace said: "Scone Palace and its medieval setting lends itself perfectly to being a real-life horrorscope, and what we've created is not for the faint-hearted.
"We know Spirits of Scone will hit the spot for anyone who loves a good fright and a great show at Halloween."
Perth-based Ad-Lib Theatre Arts researched some of the area's most gruesome stories and 
characters for this year's show.
The group has been digging into tales of a cannibal butcher and a witch.
Christie Cleek was a butcher in Perth during the 14th Century.
According to folklore, Cleek – real name Andrew Christie – joined a group of scavengers in the foothills of the Grampians during a period of severe famine.
When one of his companions died of starvation, Cleek used his culinary skills to serve him up as a tasty treat for the rest of the group.
And after developing a taste for human flesh, the scavengers, under Cleek's leadership, began ambushing passing travellers. Cleek was known to haul his 
victims from horseback using a hook or "cleke".
The group was eventually 
defeated by soldiers from Perth, but Cleek is said to have survived and quietly slipped back into 
society under a new name.
Another inspiration for this year's show is Bessie Wright, a healer from Scone who was 
investigated for witchcraft in 
the 17th Century.
Bessie, who claimed to use a 1,000-year-old medical book to cure sick locals, was at the centre of a 1626 probe into "unacceptable healing rituals".
She was ordered to stop offering healing advice within the burgh of Perth, but ignored the order and was jailed two years later.
Spirits of Scone runs for six nights and is not suitable for children under eight-years-old.