Historic Scone Palace has been bathed in red light to honour the country's war dead.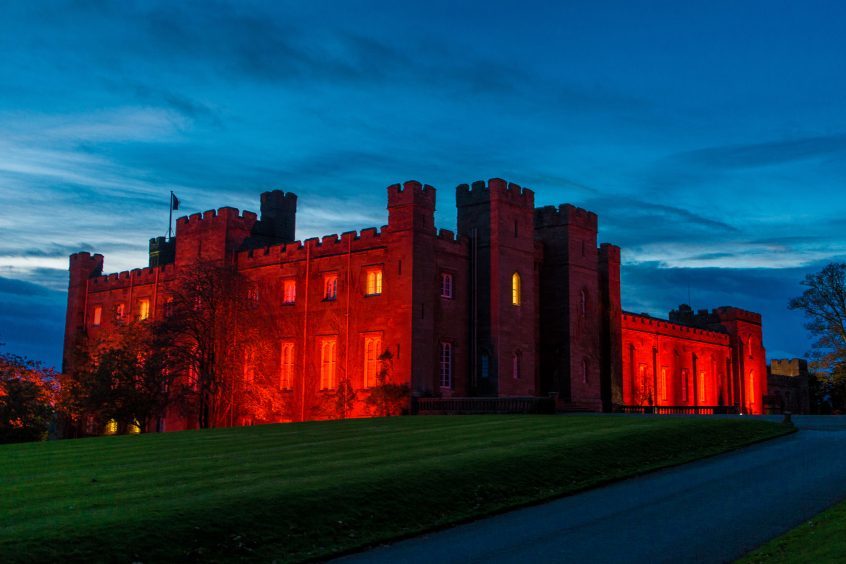 The Perthshire property is one of several landmarks across Scotland which are being lit up as part of remembrance events.
Caird Hall in Dundee is also supporting the campaign by Poppyscotland.
The charity's head of fundraising Gordon Michie said: "We hope that when people see a wonderful iconic structure like Scone Palace glowing red, they will think about the many ways they, too, can go the extra mile in their support for this year's Poppyscotland."
Other attractions which will be lit up over the coming days are the House of Bruar, Eilean Donan Castle, the Kelpies at Falkirk, Arbroath's Signal Tower Museum and Edinburgh Castle.
A similar campaign was held across the country this time last year.
Mr Michie added: "It's fantastic to see Scotland lighting up red once again for the Scottish poppy appeal, and we've been blown away by the country's support.
"Whether it's putting a little bit more in the poppy tin, or doing something completely different to raise money, every penny helps us to offer life-changing support so we can be there when they call for back-up."
Money raised by Poppyscotland supports members of the armed forces community in Scotland with extra funding and assistance. The charity also funds services in advice, employment, housing, mental health, mobility and respite.
Meanwhile, Scone Palace is celebrating the success of its Halloween-theme sound and light show.
Spirts of Scone, which came to the end of its six-night run on Tuesday, saw the grounds of the palace transformed into horrorscape by NL Productions and local group Ad-Lib Theatre Arts.
More than 4,000 people attended the event, which bosses declared a "screaming success".
Events manager Heather MacArthur said: "As several of our visitors pointed out, you couldn't make up the setting we have here.
"We knew there was demand for making Spirits of Scone bigger and better, and expanding it from three to six nights proved hugely successful.
"The feedback we had from visitors was extremely positive and we're already looking forward to next year's show."