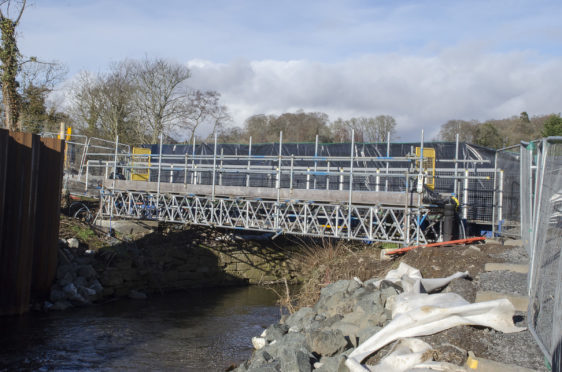 Angry Almondbank residents have been urged to remain patient as large-scale flood defence works move into their final months.
The community has been reminded of the potential benefits of the huge project, including safer homes and lower insurance premiums, and promised there will be significant reinstatement of trees and landscaping.
The Almondbank Flood Protection Scheme has been unpopular with many local people since it was first proposed, despite flooding in 1993, 1999 and 2011.
The community has become fatigued by road closures and queuing at traffic lights and angered by the visual impact of the scheme, which has seen trees and foliage chopped down.
The project has also slipped, from a completion date in February to one in June, following bad weather, building issues and, most recently, the realisation that the new bridge being erected over the River Almond had "moved" while concrete was being poured and has to be rebuilt.
One local resident, who asked not to be named, said: "The entire development is causing a lot of anger within the community.
"People are thoroughly fed up with the whole flood defence mess and the news about the faulty bridge is the last straw. The development has left the village's environment carved to bits. Trees and vegetation are gone. It is like a bomb site.
"There is so much hassle in the village. People just want it to end."
Strathtay Conservative Councillor Ian James lives locally and works in Almondbank and said he is aware of the toll the project had taken on many local people but believes some may have lost sight of the benefits.
He said: "Some of the people who live in Lochty Park have effectively been under siege and I do feel for them.
"It is also true that many local people did not want this scheme to go ahead in the first place. I sympathise with everyone who has been caught in the middle.
"I don't think some people appreciate the sheer scale and importance of this flood scheme.
"It is not just about protecting residential properties, but also commercial property, including major employers such as Vector Aerospace.
"While many people currently live in what is assessed as a "flood risk" area as far as insurers are concerned, the presence of the scheme may in the future lead to lower insurance premiums."
Mr James said he also hoped to be able to assuage some of the concerns of local people about the community would look after construction is completed.
"There is an extensive programme of replanting planned once the scheme is finished. Gardens and fencing will be reinstated.
"It will not look exactly as it did, given the scale of the works, but I am confident it will be sympathetic."