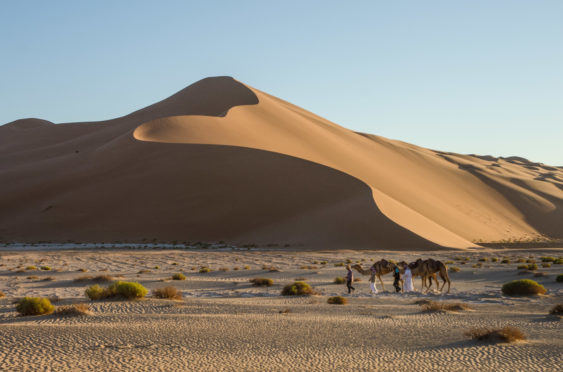 An intrepid explorer's trek across one of the most inhospitable places on earth is told in a new exhibition at the Royal Scottish Geographical Society's Perth headquarters.
For a limited time only, an exhibition on Oman will be installed in the display space at the Fair Maid's House visitor centre which details the intriguing geography of Arabia's Empty Quarter – the Rub Al Khali – the largest sand desert in the world.
This exhibition also tells the tale of Mark Evans, a British explorer who recently trekked across the Empty Quarter in the historic footsteps of Betram Thomas.
Thomas, an RSGS Livingstone Medallist, was the first to complete a crossing of this arid, hostile environment in 1931, taking just 60 days.
Thomas' adventure was a remarkable and significant "first" in the field of exploration, especially given temperatures in the Empty Quarter regularly exceed 50°C, there's hardly anywhere to shelter from the sun, annual rainfall is less than 30mm, little vegetation exists, and winds laden with sand whip fiercely across the dry surface.
As of Saturday April 7 members of the public will again be able to discover the "beating heart" of geography in Scotland when the centre reopens for the season.
In the explorers' room there are inspiring stories and ephemera from the likes of David Livingstone, Sir Ernest Shackleton, Robert Falcon Scott, Neil Armstrong and Karen Darke.
In the multi-media earth room there will be hands-on opportunities to learn about the earth's tectonic forces and in the map room, there will be time to get lost in the extensive cartographic collection.
The Fair Maid's House visitor centre will be open from April 7 until October 22, Thursday to Saturday, 1pm to 4.30pm daily.
As the centre is manned entirely by volunteers, visitors are advised that they may wish to check in advance that it will be open. The centre can be contacted on enquiries@rsgs.org or phone 01738 455050 for further information about visiting, or to ask about becoming a volunteer guide.