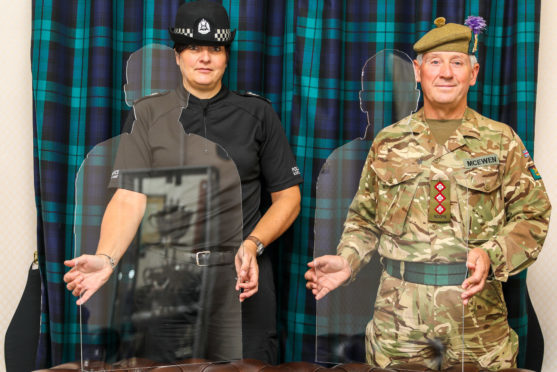 Army reservists and the police are working together on a First World War project that will be rolled out across schools in Tayside.
Sergeant Caroline Macnaughton, a community officer for Highland Perthshire and Captain Alan McEwen, of Army reservists 7 Scots, based in Perth, have taken possession of poignant silhouettes that have been produced as part of the UK-wide There But Not There initiative.
The aim of the project is to commemorate those who died in the First World War and to educate today's younger generation as to the significance of the war and the impact it had on their community.
Ms Macnaughton said the silhouettes will be handed to Breadalbane Academy in Aberfeldy, Pitlochry High School, Crieff High School, Kinross High School and the Robert Douglas Memorial School in Scone.
She also plans to get schools in Perth on board as well.
Ms Macnaughton said: "The plan is to have all the silhouettes in the schools by October 20, with pupils working on displays and sign-boards to accompany the figures.
"It's a great project and shows a collaborative partnership between the police and the Army reservists, and demonstrates how we can work with the community."
She continued: "It is important to get the schools involved in this as part of the project is about raising awareness of the First World War. I know pupils from Breadalbane Academy will visit Ypres soon and many soldiers who died in the war came from the Aberfeldy area, so this initiative is particularly poignant.
"In addition, many police officers died in the First World War and there is a plaque to commemorate them in the doorway at Barrack Street headquarters in Perth."
Mr McEwen added: "It's important to let the younger generation know about the First World War as they are our future. The 7 Scots have a long association with Remembrance events and visit St John's Kirk in Perth every year on November 11."
The silhouettes will be displayed at the schools until Remembrance Day on November 11.