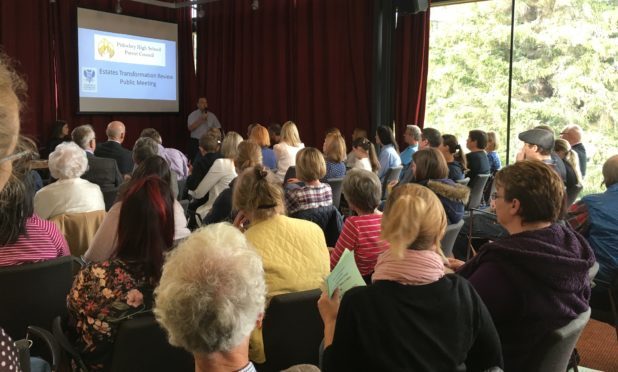 Families in Highland Perthshire are in danger of being shut out of a decision on the future of their local secondary school, councillors have claimed.
Council leaders confirmed earlier this month that they are considering closing Pitlochry High School, after it was named in the second stage of a wide-ranging estates review.
Four consultation events will be held in November, all in Pitlochry.
However, the schedule has led to fears that parents whose children attend feeder primaries in Logierait, Blair Atholl and Struan will be unable to fully participate.
SNP councillor Mike Williamson branded the consultation "dysfunctional".
"We are having to decide within this school review what is going to happen with our educational system for generations to come," he said.
"I have just received the dates for the consultation events and it all seems a bit half-hearted. If you are a parent in Calvine you are looking at a 25 mile round trip – and that's enough to prevent people from taking part.
"People shouldn't be asked to travel such large distances to take part in such an important decision. The council needs to do more to engage these communities."
The proposals include improving the condition of the school building and introducing S5 and S6 levels to increase occupancy.
Officers will also look at ways of extending the catchment area to raise school roll, while improving the condition of the building.
Other options include moving some, or all, pupils to Breadalbane Academy and closing the school entirely.
Independent councillor Xander McDade said there were "serious questions about the way the administration is choosing to conduct this school estates review that is causing it to lose the confidence of both councillors, parents and the wider public."
"Given how poor rural transport is in our area it puts families from the Logierait, Blair Atholl and Struan areas at significant disadvantage," he said.
"Rural communities by their disparate nature require greater consultation opportunities which are not being offered and should be as standard in this situation.
"Not undertaking consultations in key communities is only the latest failing by the administration in this School Estates Review process. The communications about the review have been poor at best and there is considerable confusion in the affected communities about what the administration's intentions are."
Conservative councillor Callum Purves, vice-convener of Perth and Kinross Council's lifelong learning committee, accused Mr Williamson of creating "fabricated outrage" around the consultation.
"We want to hear directly from parents and the wider public about their hopes and ideas for the future of Pitlochry High School. For that reason, I will personally be attending all the public consultation events to hear what people in the local community think," he said.
"These consultation sessions cover the daytime, evening and weekend so that as many people as possible can attend.
"Cllr Williamson's fabricated outrage is unhelpful and I would encourage him and his colleagues to actively engage in the consultation process."